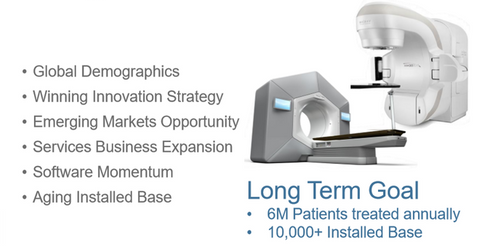 How Varian Medical Systems Is Advancing Cancer Care
By Sarah Collins

Updated
Overview
Varian Medical Systems (VAR) is the leading radiation oncology technology and solutions company. It spun off its imaging components business in January 2017 to focus on its core business of cancer management. The company has been focused on advancing cancer care globally and providing innovative and more efficient oncology treatment technologies and solutions. The diagram below shows its primary growth drivers for the expansion and growth of its oncology business.
Varian has been accelerating its penetration in the emerging markets, citing enormous growth potential. The company has also witnessed growing demand for its recently launched Halcyon system in emerging markets. For more, read Varian's Halcyon Treatment System Sees Emerging Market Demand.
Some of the other oncology technology providers in the United States include Boston Scientific (BSX), GE Healthcare (GE), and Accuray (ARAY). Investors can consider investing in the Vanguard Mid-Cap ETF (VO), which holds ~0.27% of its total holdings in VAR.
Article continues below advertisement
Recent education initiative to enable better cancer care
On September 14, 2017, Varian Medical Systems announced the beginning of an education workshop initiative. The company has started holding these workshops across Algeria for radiotherapy practitioners. The three-day workshop focuses on the treatment of head and neck and advanced prostate treatment techniques.
In Algeria, Varian Medical Systems has grown from one linear accelerator around 20 years ago to around 30 operational systems in the country today. The company also entered an agreement with the Algerian Ministry of Health to provide advanced radiotherapy and radiosurgery equipment to six cancer treatment centers in the country in 2014. Earlier in 2017, Varian delivered the first six such systems including advanced TrueBeam devices.
Management comments
According to Fouad Rahal, managing director, Varian Medical Systems of Algeria SPA, "Varian is proud to meet our commitment to the Algerian Ministry of Health and the country's clinical community by commencing training programs at our new national hub. These educational programs will help train clinicians on the use of Varian technology to deliver advanced radiotherapy for the benefit of Algerian cancer patients."