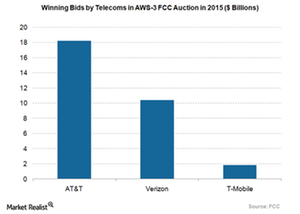 How the US Appeals Court Ruling Could Help Dish's Connectivity Plan
By Shirley Pelts

Updated
Appeals court ruling favors Dish Network
On August 29, Reuters reported that two of Dish Network's (DISH) affiliates, Northstar Wireless LLC and SNR Wireless LicenseCo LLC, could be eligible for $3.3 billion in credits. This decision could nullify ~$500 million in fines, according to a ruling from a United States (SPY) appeals court.
The report cited a court ruling that Dish Network's (DISH) affiliates would only be eligible for the credits if they can prove to the court that they are independent entities. The report stated that Dish owns 85% of these companies.
According to the report, Northstar Wireless LLC and SNR Wireless LicenseCo LLC had won 43.5% in a bid for wireless spectrum licenses at a 2015 FCC auction in 2015 and had "expected to use credits covering 25 percent of the $13.3 billion in bids."
In 2015, the FCC had ruled that considering Dish's majority stake in these firms, Northstar Wireless and SNR Wireless LicenseCo were ineligible to receive these credits.
Article continues below advertisement
How Dish would benefit from the ruling
This ruling could benefit Dish Network and could boost its bid for connectivity. The company stated during its 2Q17 earnings call that considering the litigation and the ongoing uncertainty surrounding its spectrum licenses at the AWS-32 (Advanced Wireless Services) auction, it found it challenging to plan a nationwide connectivity network using its 600 MHz spectrum.
However, this ruling could result in removing this roadblock for Dish Network. In 2015, it had been in merger discussions with T-Mobile (TMUS). However, these discussions came to a halt after the FCC rejected Dish Network's claim of a $3.3 billion discount when it came to the AWS-32 spectrum auction.