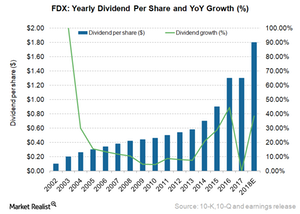 How the TNT Cyberattacks Could Affect FedEx's Future Dividend Growth
By Samuel Prince

Updated
Non-recurring items in fiscal 1Q18
FedEx's (FDX) fiscal 1Q18 saw three events heavily impact its earnings and cash flows: the cyberattacks on TNT Express's IT (information technology) systems, the damage due to Hurricane Harvey, and FedEx Trade Networks' legal expenses.
Notably, there was no mention of dividends in FedEx's fiscal 1Q18 earnings conference call, and the company's stock buybacks were significantly lower at $86.0 million in fiscal 1Q18.
Article continues below advertisement
FedEx's dividend and yield
FedEx has consistently paid dividends for the past few years, but its dividend growth had taken a beating and moved sideways until 2013. Then its dividend growth jumped forward. In June 2017, the company raised its quarterly dividend from $0.40 to $0.50 per share, representing a 25% YoY (year-over-year) rise.
FDX's forward dividend yield came in at 0.9%, while United Parcel Service (UPS) has a dividend yield of 2.8%. Another major LTL (less-than-truckload) carrier, Old Dominion Freight Line's (ODFL), had a yield of 0.4%, and Minnesota-headquartered C.H. Robinson Worldwide's (CHRW) yield is 2.5%.
The SPDR S&P Transportation ETF (XTN) has ~35% of its total portfolio in major US airlines and railroads.
Will FedEx raise dividends?
Equity dividends are declared out of free cash flows, which are derived by deducting the capital expenditure or capex from a company's operating cash flows. Notably, FedEx will have to incur a huge cash outlay on the TNT integration expenses and bring back TNT's IT systems normalcy.
Over the past few quarters, FDX's operating cash flows have dipped, and in fiscal 2017, its operating cash flows were only $4.7 billion—down from $5.7 billion one year previously. FDX has actually repurchased stock by raising debt. For this reason, the company may not go for the same level of dividend growth that we saw in fiscal 1Q18.
Let's now check in with the analysts' views on FedEx after its fiscal 1Q18 results.