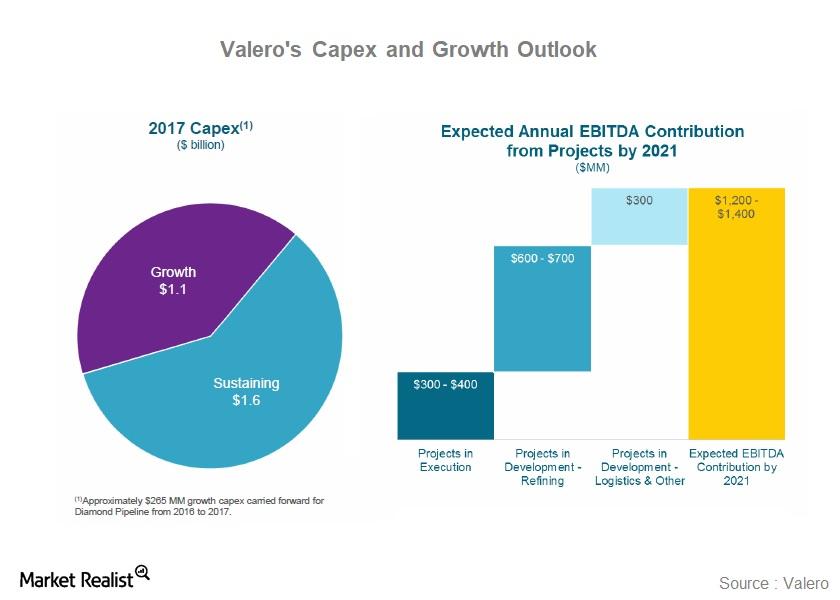 How the Growth Trajectory of Valero Energy's Capex Looks
By Maitali Ramkumar

Sep. 25 2017, Updated 7:37 a.m. ET
Valero's capex
Valero Energy (VLO) is working toward creating an integrated downstream value chain. Valero plans to spend around $1.0 billion annually until 2021 toward growth activities to achieve its EBITDA[1. earnings before interest, tax, depreciation, and amortization] target, which we will discuss shortly.
The company plans to spend this amount equally between its Refining and Logistics segments. In 2017, Valero expects to incur capital expenditure (or capex) of $2.7 billion, of which $1.1 billion would be in growth activities, and $1.6 billion would be in sustenance activities.
Article continues below advertisement
Valero's EBITDA target
Valero expects to achieve ~$1.2 billion–$1.4 billion of incremental annual EBITDA by 2021. Its growth capital expenditure plans are geared toward this target. Valero's EBITDA stood at ~$4.8 billion in 2016. The company's EBITDA stood at ~$2.7 billion in the first half.
Valero has a set of ongoing projects that are likely to contribute $300.0 million–$400.0 million to its incremental annual EBITDA target. These projects include the Wilmington cogeneration project, the Houston alkylation project, the Diamond pipeline project, and the Diamond Green Diesel expansion project. These projects are aimed at improving feedstock flexibility, producing higher value products, supporting growth, and developing logistics capabilities.
Article continues below advertisement
The Wilmington cogeneration plant is anticipated to reduce energy costs and provide a steady supply of power and steam to the company. The project costs $110.0 million with startup expected in 4Q17. The Houston alkylation project is expected to upgrade low-value isobutane to high value alkylate. The project costs around $300.0 million and is expected to be completed by 1H19.
The Diamond Pipeline project involves the construction of 440 miles of pipeline, which would transport crude oil from Cushing to Memphis. The pipeline capacity would be 200,000 barrels per day. The Diamond pipeline should improve Valero's supply flexibility and crude blend quality. The project should cost Valero $460.0 million for its 50% stake, and it is expected to be completed by 4Q17.
The Diamond Green Diesel project is aimed at developing VLO's capacity to produce renewable diesel. The project is expected to cost $200.0 million and likely to be completed by mid-2018.
Developmental projects
In addition to its ongoing projects, Valero also has some projects under development in the Refining and Logistics segments. These include projects like product supply chain expansions into Mexico and Latin America, octane enhancement activities in the US Gulf Coast, a cogeneration project in the North Atlantic, and improvements to its feedstock and product flexibility in the North Atlantic and US Gulf Coast regions.