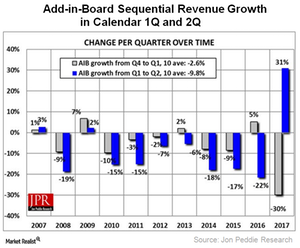 How the Cryptocurrency Trend Is Benefiting AMD
By Puja Tayal

Updated
Cryptocurrency trend
So far, we've seen how Advanced Micro Devices (AMD) stock reacted to the recent confusion surrounding the news about a possible partnership with Tesla in regards to autonomous vehicle chips. AMD stock has also been highly reactive to the boost in the cryptocurrency trend.
Cryptocurrency prices peaked between April and August 2017 with bitcoin prices rising 354% and Ethereum prices rising 777%, according to data from CoinDesk. The cryptocurrency boom boosted demand for GPUs (graphics processing units) among crypto miners. This demand boost saw sales of an AIB (add-in-board) card increase in calendar 2Q for the first time in eight years. AIB card sales rose 30.9% sequentially to over $3.6 billion in 2Q17, according to data from JPR (Jon Peddie Research).
Article continues below advertisement
GPU supply shortage
AMD's and NVIDIA's (NVDA) GPUs are used by cryptocurrency miners to solve computational problems and verify transactions on blockchain coins. Miners prefer AMD's GPUs over NVIDIA's for mining purposes. Thus, when AMD launched is Vega 56 GPUs on August 28, 2017, the GPU was out of stock within the first five minutes at popular retailers like Newegg and eBay. The entire stock was swallowed by miners, creating a GPU shortage for gamers.
GPU prices spike
Distributors and retailers are capitalizing on this demand and have increased the prices of these GPUs. NVIDIA's GTX 1070 GPU, which was originally priced at $379, is currently selling at $429 on Newegg. It is important to note that this price hike is on the retailer end and AMD and NVIDIA aren't benefiting from an increase in selling prices. The only way the chip suppliers are benefiting is from increased volumes.
This uptrend in the cryptocurrency market boosted sales of AMD and NVIDIA by double digits. However, many analysts warned that this trend is short-lived and will die when cryptocurrency prices fall. AMD supported this view and excluded mining-related sales in its fiscal 3Q17 guidance, whereas NVIDIA believed that the cryptocurrency growth is here to stay.
Next, we'll see what AMD thinks about the cryptocurrency market.