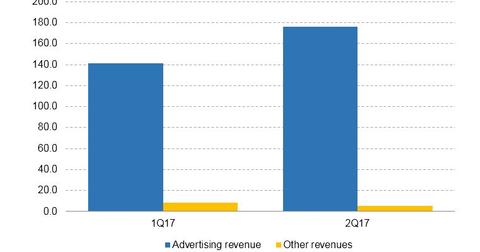 How Snap Is Fighting Fake News
By Neha Gupta

Updated
Checking news accuracy
Snap (SNAP) is using a team of in-house journalists to help keep fake news off its Snapchat platform, according to the BBC. Snapchat had 173 million daily users at the end of the quarter that ended in June.
Journalists working with Snap evaluate the accuracy of user-generated event coverage. In the fact-checking process, Snap can even call the police to be sure that the information it's about to post is authentic.
The news team also helps Snap enhance the value of the posts it highlights. For example, Snap can warn users about graphic content if a post contains disturbing scenes.
Article continues below advertisement
Facebook relies on an algorithm to battle false news
In contrast, Snap's rival Facebook (FB) uses algorithms rather than humans to fact-check content shared across its digital platforms. Facebook and Alphabet's (GOOGL) Google faced criticism last year for providing platforms for fake news to flourish. As a result, Facebook and Google have stepped up their efforts to curb the spread of fake news on their platforms.
This approach to fact-checking news could help Snap in many ways—such as by encouraging news consumption on Snapchat and winning advertisers' trust.
Staying away from controversies
Controversial social media posts can turn off advertisers and lead to loss of revenue. Google suffered an advertiser backlash earlier this year after it was discovered that YouTube ads were appearing next to content promoting violence or hate. Major brands, including Johnson & Johnson (JNJ) and Verizon (VZ), pulled their ad campaigns from YouTube as a result.
As the chart above shows, advertising is Snap's main revenue source.