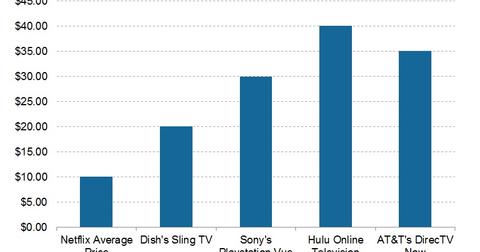 How Rising Competition Could Affect Dish Network's Sling TV
By Shirley Pelts

Updated
Dish Network's Sling TV
Dish Network's (DISH) Sling TV is currently experiencing a changing corporate landscape. In mid-August, Sling TV's CEO, Roger Lynch, exited Dish to join Pandora Media (P) as its CEO. After Lynch's resignation, Dish's president and chief operating officer, Erik Carlson, was tapped to lead Sling TV.
On August 26, Sling TV offered the boxing match between Floyd Mayweather and Conor McGregor on a pay-per-view basis to customers at $99.99 before taxes. This decision by Sling TV to offer in-demand pay-per-view content could be a response to the increasing competition from video streaming services such as Netflix (NFLX) and online television services such as Hulu and Alphabet's (GOOG) YouTube TV.
Article continues below advertisement
Dish's view of the rising competition
During its 2Q17 earnings call, Dish Network was asked about the impact on its Sling TV service from rising competition from over-the-top services. Dish noted that new entrants in the video streaming space would affect Sling TV's market share.
Dish added that in such a scenario, it would be important for the company to differentiate its Sling TV service through improved programming packages, a good user interface, and solid service.
Dish pointed out Sling TV's product differentiation by noted that Sling TV's packages do not offer the Walt Disney Company's (DIS) ESPN. According to analysts' estimates, viewers do not see the need to pay for ESPN programming.
Dish added that it remained to be seen whether Sling TV would see accelerated subscriber growth this year as the OTT (over-the-top) landscape remained a seasonal affair. Viewers typically purchase sports packages in their preferred sports' seasons and switch to other programming packages in the off-season.