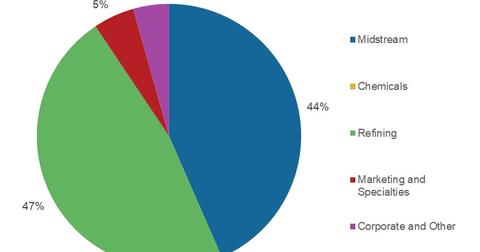 How Phillips 66's Capex Is Shaping Its Future Growth Path
By Maitali Ramkumar

Sep. 18 2017, Updated 8:07 a.m. ET
Phillips 66's capex: segmental trends
Phillips 66's (PSX) capital expenditure or capex stood at $458 million in 2Q17, compared with Marathon Petroleum's (MPC), Valero Energy's (VLO), and Andeavor's (ANDV) capex of $784 million, $461 million, and $267 million, respectively, in 2Q17.
In 2Q17, PSX allocated 47% of its capex to the Refining segment, 44% to the Midstream segment, and 5% to the Marketing and Specialty segment. The Chemical segment, which includes CPChem, a joint venture between Phillips 66 and Chevron (CVX), has self-funded its 2Q17 capex.
Article continues below advertisement
Modernization activities in refining
In the refining segment, PSX has series of modernization projects. To comply with the EPA's (US Environmental Protection Agency) tier-3 gasoline regulations, PSX is upgrading its Sweeny refinery, and to increase the yield of cleans product, Phillips 66 is modernizing its Bayway, Ponca City, and Wood River (jointly owned) refineries.
The modernization of fluid catalytic units at the Bayway, Ponca City, and Wood River are expected to be completed in 1H18, 3Q17, and 1H18, respectively.
Meanwhile, to yield higher value products from cheaper, heavier crude oil, PSX has installed a new vacuum distillation unit at its Billings refinery.
Expansion in midstream
PSX added 1.2 million barrels of storage capacity to its Beaumont Terminal in 2Q17. The storage capacity (of crude oil and products) at the terminal stood at 9 million barrels before the latest addition. PSX plans to add another 2.2 million barrels of capacity to the terminal in 2H18.
PSX also progressed with its construction activities at its Bayou Bridge Pipeline (stake 40%), which aims to link the Gulf Coast refineries to North American oil resources. The pipeline is expected to start operations in 1Q18.
Article continues below advertisement
PSX's 25% stake in the DAPL (Dakota Access Pipeline) and ETRCOP (Energy Transfer Crude Oil Company) joint ventures—pipelines representing ~470,000 bpd in capacity—aim to link the Bakken region in North Dakota to the US Midwest and the US Gulf Coast. The commercial operations of the DAPL and ETCOP pipelines began in 2Q17.
Chemical segment projects
The chemical segment includes 50% equity investment in CPChem (Chevron Phillips Chemical). CPChem's US Gulf Coast Petrochemicals Project is progressing according to schedule.
The two polyethylene units achieved mechanical completion in June 2017. The ethane cracker is projected to achieve mechanical completion in 4Q17. The ethane cracker and two polyethylene units should raise PSX's global ethylene and polyethylene capacities by ~33%.
In a nutshell
With its modernization projects in refining and expansion projects in midstream and chemicals, Phillips 66 looks set to create a growth-oriented diversified earnings model. This should not only shield the company, in part, from volatility in refining earnings but also usher in earnings growth.