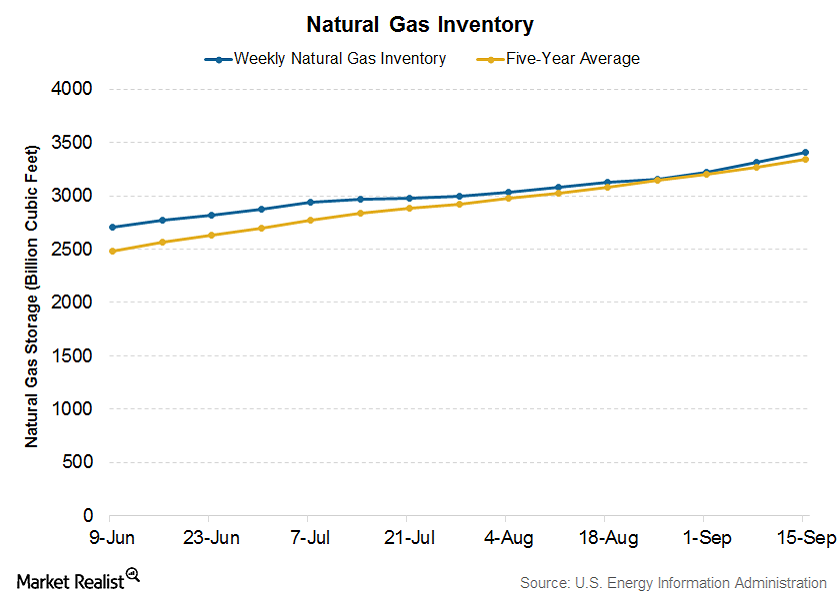 How Natural Gas Inventories Affected Coal as of September 15
By Alexis Tate

Sep. 27 2017, Published 4:34 p.m. ET
Coal Indicators
Coal is a depletable natural resource, but there are a variety of coal forms available in nature. To price different types of coal, we require various benchmarks.
Awareness of how natural resource depletion causes global climate change affects the supply and demand of the coal market as well. This, in turn, has an effect on coal pricing.
Coal prices also sway depending on the price of other fuels. When the price of another fuel looks more appealing, the demand for coal will fall. Alternatively, when the price of other fuels rises, coal tends to be more in demand.
Meanwhile, inventory levels of commodities reflect the market's demand and supply, and so inventory figures are useful in getting an idea of commodity prices.
Article continues below advertisement
Natural gas inventory
Throughout the year, natural gas is stored underground as a means of managing peak demand during winter. The natural gas inventory report for the US is published by the EIA (US Energy Information Administration) on Thursdays, and the report covers the previous week.
For the week ended September 15, natural gas inventories came in at 3,408 Bcf (billion cubic feet)—higher than the 3,311 Bcf we saw the previous week. But the inventory figure was 3.8% lower than the 3,544 Bcf reported during the comparable week in 2016. The inventory level was also 2% higher than the five-year average of 3,341 Bcf.
The influence of natural gas inventories on coal prices
Natural gas prices are hugely impacted by the natural gas inventory. A high natural gas inventory implies a higher-than-expected natural gas supply and could also mean lower demand for natural gas, which can lead to a fall in natural gas prices.
If natural gas prices decline, utilities (XLU) start using natural gas more instead of coal, and so we can easily conclude that thermal coal producers will likely be positively impacted by any increase in natural gas prices.
A rise in natural gas prices could thus be favorable for major coal (KOL) miners like Cloud Peak Energy (CLD), Peabody Energy (BTU), Arch Coal (ARCH), Alliance Resource Partners (ARLP), and Natural Resources Partners (NRP).
In the next part, we'll look at the latest natural gas prices.