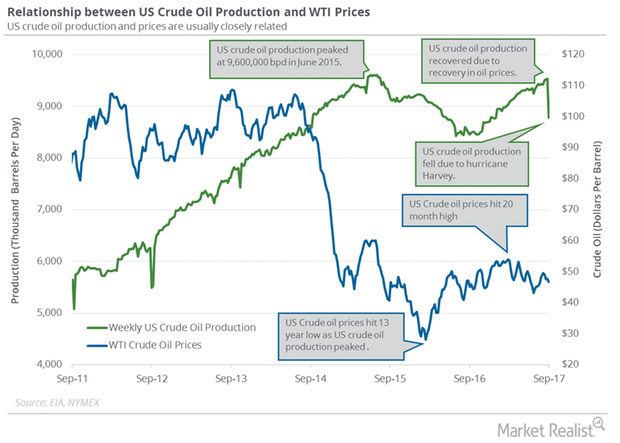 How Hurricane Irma Could Impact Crude Oil Prices and Production
By Gordon Kristopher

Sep. 11 2017, Published 3:42 p.m. ET
US crude oil futures  
October WTI (West Texas Intermediate) crude oil (USO)(UCO)(UWT) futures contracts fell 3.3% to $47.48 per barrel on September 8. This was the largest single day loss since July 5. US crude oil prices are at a one-week low.
Prices fell due to the uncertainty from Hurricane Irma. The fall might impact crude oil refining activity in Florida.
Article continues below advertisement
Hurricane Irma 
Hurricane Irma hit Florida on Sunday, September 10, leading to electricity shutting down for 4.5 million customers. According to Bloomberg, 6,000 gasoline stations closed due to Hurricane Irma.
Meanwhile, Hurricane Harvey hit Texas on August 25, leading to a drop in US crude oil refining capacity of 3.8 MMbpd (million barrels per day) or 20%. Similarly, Hurricane Irma could lead to a drop in crude oil refinery demand in the short term. Refineries may take weeks to restart after hurricanes Harvey and Irma.
US crude oil production   
The EIA (U.S. Energy Information Administration) estimates that US crude oil production fell 7.8% or 749,000 bpd (barrels per day) to 8.8 MMbpd between August 25 and September 1. Production fell due to Hurricane Harvey. Hurricane Irma may not impact US crude oil production as it's far from the Gulf Coast.
Article continues below advertisement
WTI and Brent Crude oil futures' weekly performance 
Brent and WTI spread 
The spread between Brent and WTI crude oil (DWT)(BNO)(SCO)(IEZ) futures was at $5.78 per barrel on September 7—the highest level in two years. Brent crude futures rose due to Hurricane Harvey and a production cut deal. The spread may decrease as Gulf Coast refineries ramp up refinery and export activity.
Series overview  
In this series, we'll look at OPEC's crude oil production, the US dollar, crude oil performance in the last 18 months, Cushing crude oil inventories, and the US crude oil rig count.