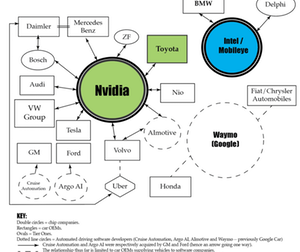 How Did NVIDIA Bulls Respond to AMD-Tesla News?
By Puja Tayal

Updated
NVIDIA bulls' response to Tesla-AMD news
In the previous part of the series, we saw that analysts that are bullish on Advanced Micro Devices (AMD) believe that an automotive partnership with Tesla (TSLA) would be a "game changer" for AMD and bring competition for NVIDIA (NVDA). On the other hand, analysts that are bullish on NVIDIA believe that the company will be unaffected by AMD's entry in the automotive space.
Article continues below advertisement
RBC
RBC analyst Mitch Steves is neutral on the AMD-Tesla news and believes that it won't significantly impact NVIDIA. He explained that autonomous driving is a huge opportunity and both AMD and NVIDIA can co-exist and get sufficient business from Tesla.
Even if the Tesla account is shared with AMD, NVIDIA's investors have nothing to worry about as the chip supplier has several automotive partnerships that are way bigger than Tesla like Toyota (TM) and Baidu (BIDU).
Toyota has the potential to sell up to 10 million cars annually. At present, NVIDIA supplies its DRIVE PX 2 platform to Tesla for somewhere between $1,000 and $1,500. If NVIDIA sells the same chips for even 10% of Toyota's cars, it equates to annual automotive revenue of $1 billion to $1.5 billion from Toyota alone. NVIDIA has other automotive partnerships that could generate more revenue.
In the long term, AMD is likely to take some share in the auto and low-end data center markets, but NVIDIA could continue to be a dominant player in these markets. AMD would co-exist with NVIDIA only to prevent the latter from taking a 100% share in the self-driving AI (artificial intelligence) chip market.
Global Equities Research
While other analysts were charting out the possible outcome of an AMD-Tesla partnership on AMD, Intel (INTC), and NVIDIA, Global Equities Research analyst Trip Chowdhry reported that the partnership news was false.
He noted that Tesla recently renewed its automotive partnership with NVIDIA for five years, which shows that the automaker is committed to NVIDIA's technology. Moreover, NVIDIA has been perfecting its deep learning technology for a decade, which has made its technology unbeatable. AMD, on the other hand, is new to deep learning technology and likely won't become a significant player in such a short time.
Trip Chowdhry stated that NVIDIA would continue to dominate the GPU (graphics processing unit) market and Intel the CPU (central processing unit) market. According to Chowdhry, any other player "will be in the 'others' category, which will be about 10% of the market."
Next, we will look at the correlation between AMD's stock and cryptocurrency prices.