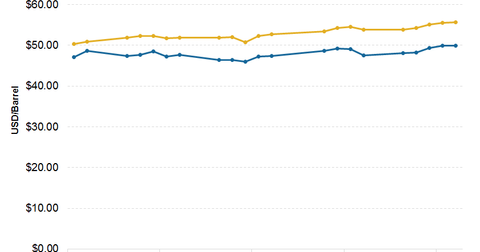 How Coal Miners Are Affected by Higher Crude Oil Prices
By Alexis Tate

Updated
Crude oil prices
On September 15, Brent crude oil prices closed at $55.62 per barrel as compared to the closing price of $53.78 per barrel in the previous week.
Meanwhile, WTI (West Texas Intermediate) crude oil prices closed at $49.89 per barrel on September 15, 2017, as compared to the previous week's closing price of $47.48 per barrel on September 8.
Article continues below advertisement
Do crude oil prices affect coal producers?
For the US coal (KOL) industry, oil prices are a mixed driver, even though coal and crude oil are not direct competitors. Energy stocks, including coal stocks, follow crude oil prices. Major coal producers (KOL) like Arch Coal (ARCH), Cloud Peak Energy (CLD), Peabody Energy (BTU), and Alliance Resource Partners (ARLP) are affected by crude oil prices in various ways. Thus, it's important for coal investors to track crude oil prices.
Oil prices drive natural gas production trends, which in turn impact coal. Oil is an integral part of the mining process of coal. The rise in oil prices will lead to higher operating costs for coal producers.
A decline in crude oil prices leads to lower fuel costs for coal producers. A fall in oil prices encourages US crude oil producers to reduce production, freeing rail infrastructure for coal transportation. The impact of oil prices is insignificant for most utilities because oil is not a major fuel used to power electricity generation throughout the United States.
Continue to the next part for the latest data on coal production.