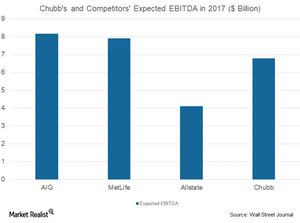 How Chubb's Overseas General Insurance Division Performed
Falling net premiums written
Chubb's (CB) Overseas General Insurance division saw a decline in its net premiums to $2.01 billion in 2Q17 as compared to $2.03 billion in 2Q16, a decline of 1.2%. This marginal decline was mainly a result of underwriting actions in relation to merger activity. However, strong growth has come from the division's property and casualty and personal lines business.
The overseas general insurance division witnessed an increase in its income in 2Q17 and stood at $396 million as compared to $329 million in 2Q16, thus representing an increase of 20.4%. This increase was mainly due to a substantial rise of 34.7% in the division's underwriting income. In 2Q17, the underwriting income of the overseas general insurance division stood at $256 million. In 2Q16, the underwriting income stood at $190 million.
However, the company's overseas general insurance division's policy acquisition costs increased in 2Q17 as compared to 2Q16. In 2Q17, policy acquisition costs stood at $555 million. In 2Q16, these costs stood at $537 million, reflecting a rise of 3.4%.
Article continues below advertisement