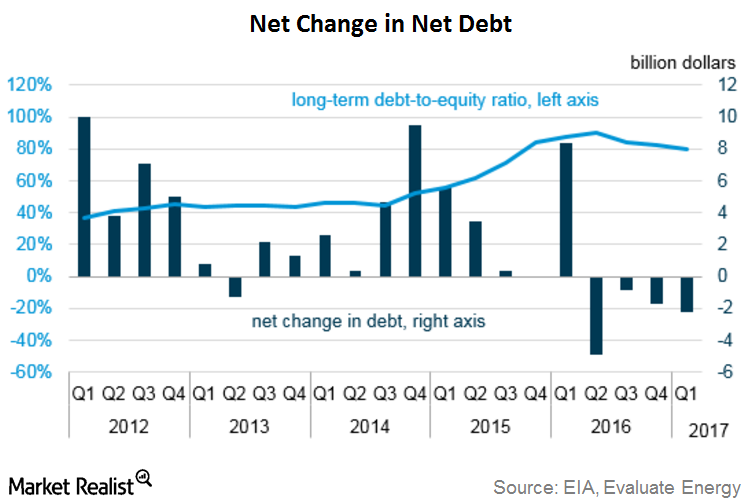 How Asset Transactions Are Impacting Energy Companies' Debt Levels
By Keisha Bandz

Dec. 4 2020, Updated 10:53 a.m. ET
Changes in debt levels
The US Energy Information Administration (or EIA) conducted a study of 54 publicly traded US oil and gas producers and their related performance in 1Q17. According to the EIA, these companies raised significant cash from asset sales in 1Q17, the highest levels since 3Q14. According to the EIA report, "Companies often favor asset sales when they wish to restructure their production portfolios and invest where they believe they have more of a competitive advantage."
Article continues below advertisement
According to the EIA, the companies included in this analysis have been paying off debt through asset sales, which have also helped fund investments in combination with equity issuances. The image above notes that from 2012 through the end of 2015, debt had been a significant source of capital for the producers included in the analysis.
Since the beginning of 2016, these producers have reduced debt by $1.4 billion, according to the EIA. For the select group of companies included in this study, debt-to-equity ratios fell from an average of 88% to 80% between the first quarter of 2016 and the first quarter of 2017.
A key example of a company that has heavily relied on asset sales to reduce its debt is Chesapeake Energy (CHK). To know more, read How Far Has Chesapeake Energy Come in Debt Reduction Efforts?