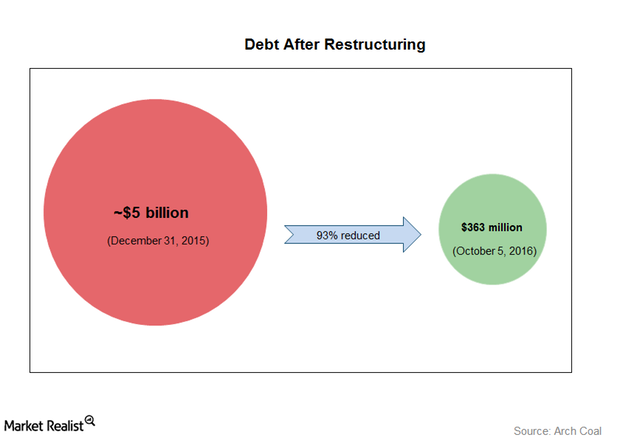 How Arch Coal Emerged from Chapter 11 Bankruptcy
By Alexis Tate

Sep. 26 2017, Published 12:59 p.m. ET
Reorganization plan
Chapter 11 is a type of bankruptcy that helps a business restructure its debts and obligations while enabling the business to stay afloat. Chapter 11 is generally filed by companies that require time to restructure their debts. This type of bankruptcy gives the debtor a fresh start, which is subject to the debtor's fulfillment of the obligations under the reorganization plan.
Arch Coal (ARCH) used a reorganization plan, which was approved by the bankruptcy court in September 2016, to emerge from Chapter 11 bankruptcy. The plan helped the company eliminate $4.7 billion of debt from its balance sheet. As part of its restructuring plan, Arch Coal set aside collateral to cover future mine cleanup costs and ended its use of self-bonding. 
Article continues below advertisement
The exit
On October 5, 2016, Arch Coal (ARCH) emerged from bankruptcy through successful financial restructuring. Through bankruptcy proceedings, Arch Coal was able to reduce its debt load 93% to $363.0 million, which consists of a new term loan and capital leases.
Under the reorganization plan, the company's senior lenders received cash and the vast majority of Arch's new stock. Unsecured creditors, including bondholders, would receive $30.0 million in cash and 6% of the new stock 
The company has third-party surety bonds in place covering 100% of its reclamation bonding requirements. Any outstanding debts owed by Arch Coal to suppliers that didn't have collateral or security were wiped out.
Coal (KOL) peers Alpha Natural Resources (ANRZQ), Peabody Energy (BTU), and Walter Energy (WLTGQ), which had also opted for high-leverage inorganic growth, faced the same fate as Arch Coal—all three went bankrupt. We predicted these bankruptcies months before they happened, in the same order.