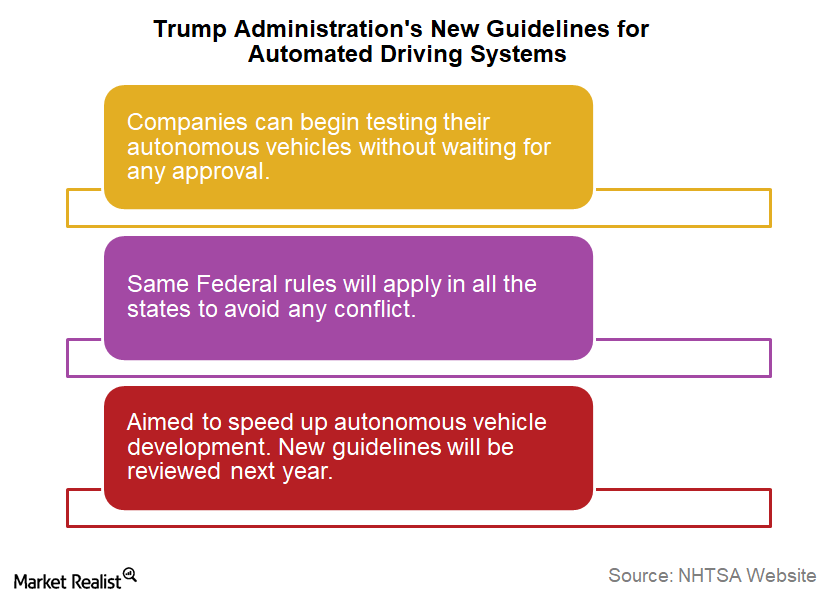 Here's How Trump Is Supporting Autonomous Vehicle Development
By Jitendra Parashar

Dec. 4 2020, Updated 10:53 a.m. ET
Guidance for autonomous vehicle development
On September 12, 2017, the U.S. Department of Transportation (or DOT) and NHTSA (National Highway Traffic Safety Administration) released new guidelines for autonomous vehicle development. These new guidelines are a revision and a more flexible version of previous guidelines that were announced under the Obama administration about a year ago.
According to the new policy document, the government intends to "ensure it does not impede progress with unnecessary or unintended barriers to innovation."
Article continues below advertisement
Will it speed up autonomous vehicle development?
The new guidelines made it clear that NHTSA doesn't want states to decide their own rules for autonomous vehicle testing and deployment in order to avoid any chance of conflicting regulation. The guidelines are expected to be updated as needed.
According to a Reuters report published on September 12, Elaine Chao, U.S. Transportation Secretary, said that NHTSA "would exercise its power to recall automated vehicles if they are found to be unsafe."
These new guidelines certainly will make it easy for companies (XLY) to test their autonomous vehicles and related technology without seeking prior approval from authorities. Thus, we believe the new guidelines will help automakers and other companies speed up autonomous vehicle development.
These flexible guidelines could encourage autonomous vehicle development at companies including General Motors (GM), Ford (F), Fiat Chrysler (FCAU), and Alphabet's (GOOGL) (GOOG) Waymo.
The Trump agenda
Donald Trump came to power having promised that the employment situation in the country would improve. Deployment of autonomous vehicles including trucks and other commercial vehicles would threaten millions of truck driving jobs in the US. Therefore, Trump's recent move to support autonomous vehicle development might not please some of his supporters.