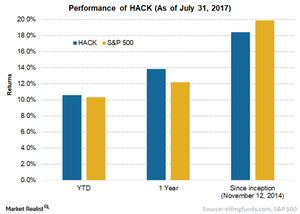 Behind HACK's Investment Strategy
By Peter Barnes

Sep. 5 2017, Updated 3:19 p.m. ET
Investment strategy
The ETFMG Prime Cyber Security ETF (HACK) follows a replication strategy, which is basically an indexing strategy that involves investing in the securities (CSCO) (JNPR) of the index in approximately the same proportions as the index invests. Consequently, HACK does not aim to beat the index, and it doesn't intend to take temporary defensive positions when markets (SYMC) (SPLK) are in a corrective mode or are overvalued.
Article continues below advertisement
Healthy portfolio returns
Since its inception on November 12, 2014, HACK has provided healthy returns that are comparable to the broader equity indexes. As of July 31, 2017, HACK has returned 18.4% since its inception, while the S&P 500 has returned 19.9% during the same period.
On the other hand, HACK has comfortably outperformed the wider index during the past year and on a YTD (year-to-date) basis. For the fiscal year ended July 31, 2017, HACK returned 13.8%, compared with the S&P 500's return of 12.2%, while on a YTD basis, HACK has risen 10.6%, compared with S&P 500's gain of 10.3%.