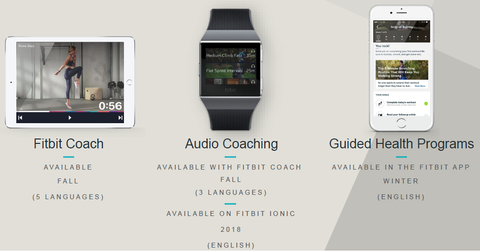 Gauging the Potential Success of Fitbit's Premium Subscription Model
By Adam Rogers

Updated
Customers need to pay $8 for premium subscription
Fitbit (FIT) has also launched a premium smartwatch service for customers wherein users can pay $8 per month or $40 per year. This service will provide users with a personal training application, audio coaching, and guided health programs.
The personal training application will have videos of dynamic bodyweight workouts and provide recommendations based on recorded user activity. Customers can choose a training program based on various intensity levels, and the audio coaching includes over 40 run-and-walk sessions designed to improve endurance and pace. This service is integrated with Fitbit's Ionic smartwatch and does not require a smartphone.
The guided health programs include multi-week health and fitness programs as well as personalized guidance and weekly summaries. Even if only a small portion of Fitbit device users sign up for this premium service, it would mean incremental and recurring revenues for the company.
Article continues below advertisement
What could attract users to Fitbit's premium service
According to Fitbit, 70% of daily Aria users have lost weight in the first six months, and a similar number of low activity users increased activities driven by reminders. Fitbit has penetrated the enterprise market and has over 1,300 enterprise customers who have started realizing the benefits of a healthy lifestyle.
Fitbit will be looking to increase subscription revenues gradually as a part of total revenues over the next few years.