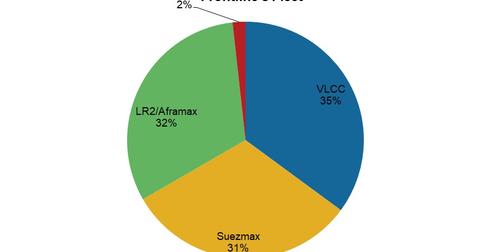 Frontline's Fleet and Its Newbuilding Program
By Sue Goodridge

Sep. 12 2017, Updated 11:37 a.m. ET
Frontline's current fleet
Frontline (FRO) had 57 vessels in its fleet on June 30, 2017. The 57 vessels include 20 VLCCs (very large crude carriers), 18 Suezmax tankers, 18 LR2/Aframax tankers, and one MR (medium-range) vessel.
Of Frontline's 55 vessels, 38 are owned by the company, and ten are under capital lease. The others are either on finance lease, under commercial management, chartered, or under a cost or revenue split with a third party.
Article continues below advertisement
Frontline's newbuilding program
On June 30, 2017, Frontline has ten newbuilds under construction. The newbuilding program consists of six VLCCs, one Suezmax tanker, and three LR2 tankers.
The company has paid $159 million in installments, and the remaining commitments amount to $557.4 million. Out of these, $417.0 million is due in 2017, $86.0 million is due in 2018, and $53.4 million is due in 2019.
In April 2017, Frontline had ordered two VLCCs to be built at Hyundai Samho Heavy Industries. These vessels are due for delivery in December 2018 and April 2019.
In April 2017, the company took delivery of Suezmax newbuild Front Crystal and LR2 Front Sirius. In May, it took delivery of its Suezmax Front Coral. In June 2017, the company took delivery of its Suezmax Front Cosmos and LR2 newbuild Front Castor.
Among Frontline's peers, Teekay Tankers (TNK) does not have single newbuild in its pipeline. On the other hand, Nordic American Tankers (NAT), Tsakos Energy Navigation (TNP), and Euronav (EURN) have newbuilds in its pipeline.