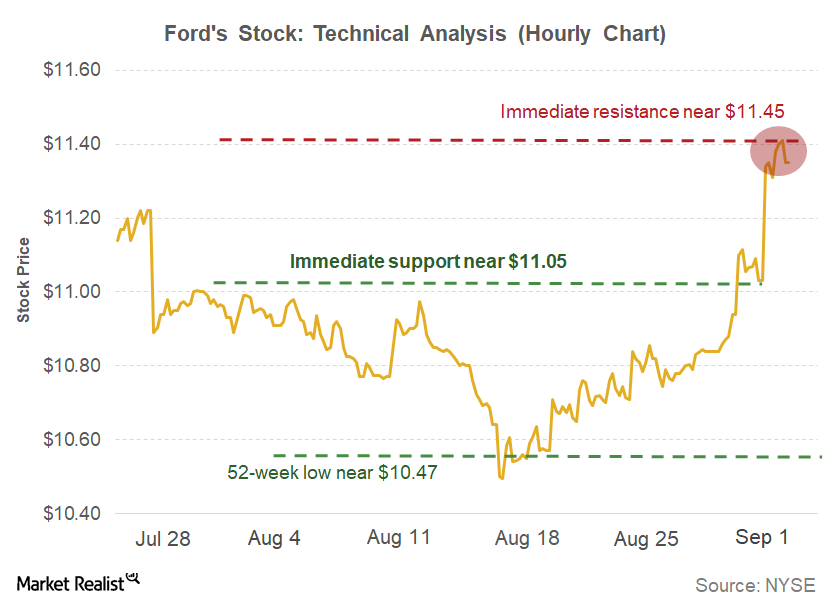 Ford Stock Sees Highest Gains in 8 Months
Ford stock
In the week ended September 1, Ford Motor (F) stock settled at $11.35, rising 4.9%, the highest gain over a week in the last eight months. In the previous week, the stock rose ~2.5%, possibly because of investors' high expectations for its August US auto sales data.
Article continues below advertisement
Technicals turning positive?
Ford stock breached its 52-week low of $10.67, falling to $10.47 in early August. On September 1, Ford stock reached the key resistance level of ~$11.45. Its 14-day RSI (relative strength indicator) score is hovering near equilibrium, at 49.9.
The RSI divergence and price action could signal a possible reversal in the stock price. On the downside, $11.05 should act as an immediate support going forward.
Recent updates
According to Autodata, Ford's US car sales fell 8.6% YoY (year-over-year) in August, while its truck sales were almost flat, rising just 0.1% YoY. The company's US vehicle sales were impacted by Hurricane Harvey. However, experts expect Ford's sales to rise in the coming months as people with hurricane-damaged vehicles begin to look for replacements.
In 2Q17, Ford reported adjusted EPS (earnings per share) of $0.56, about 7.7% higher than its adjusted EPS of $0.52 in 2Q16. However, Ford's shrinking global market share (XLY) and dismal 2017 outlook kept investors at bay.
In 2016, Ford was the second-largest auto company in the US market, behind General Motors (GM) but ahead of Fiat Chrysler (FCAU) and Toyota (TM). Continue to the next part, where we'll see how Fiat Chrysler stock traded last week.