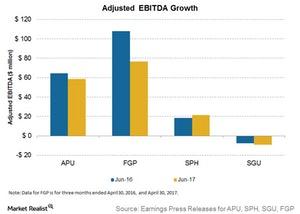 FGP, SPH, APU: Factors Impacting the Performance of Propane MLPs
By Rekha Khandelwal, CFA

Sep. 7 2017, Updated 5:36 p.m. ET
FGP's EBITDA fell 29%
Suburban Propane Partners (SPH) reported a 16% increase in its EBITDA[1. earnings before interest, tax, depreciation, and amortization] for the quarter ended June 24, 2017, compared to the same quarter in 2016. On the other hand, AmeriGas Partners (APU) reported a 10% year-over-year drop in EBITDA in the quarter ended June 30, 2017.
Ferrellgas Partners' (FGP) EBITDA fell 29% in the quarter ended April 30, 2017. Star Gas Partners' (SGU) EBITDA fell to -$9.3 million in the quarter ended June 30, 2017, from -$7.8 million in the same quarter in 2016.
The chart above compares the year-over-year EBITDA growth for AmeriGas Partners, Ferrellgas Partners, Star Gas Partners, and Suburban Propane Partners. FGP, APU, and SGU attributed the decline in EBITDA to warmer-than-normal winter temperatures during the quarter.
Article continues below advertisement
Fiscal year-end dates
The end of the fiscal year for both Star Gas Partners and AmeriGas Partners is September 30. Suburban Propane Partners reports results for its fiscal year ending September 24, 2017. The fiscal year end for Ferrellgas Partners is July 31.
Seasonal variation
The earnings of propane distribution MLPs have significant seasonal variations. The chart above shows the adjusted EBITDA readings for these four MLPs over the last three years. As the chart shows, these EBITDA readings peaked during the quarter ended March 31, which includes the winter heating season.
FGP spread its EBITDA over the March and June quarters, as its comparable March-ending quarter ended on January 31. Its EBITDA readings from February and March were reflected in its quarter ended April 30.
Next, we'll analyze and compare the leverage of these four MLPs.