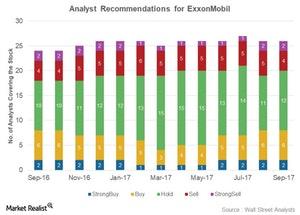 ExxonMobil on the Street: Analysts' Opinions
Analysts' opinion on ExxonMobil
ExxonMobil (XOM) stock is covered by 26 analysts, eight (31%) of whom have assigned a "buy" or "strong buy" recommendation on the stock. However, 12 analysts (46%), representing the majority, have assigned "hold" ratings on the stock, while the remaining six (23%) have assigned "sell" or "strong sell" ratings on the stock.
ExxonMobil's mean target price of $82 per share implies a 6% gain from the current level. Recently, Jefferies cut its target price for ExxonMobil to $81 per share. J.P. Morgan has reduced its target price on XOM from $81 to $80 per share.
Royal Dutch Shell (RDS.A), Chevron (CVX), and BP (BP) have been rated "buy" by 91%, 65%, and 50% of analysts, respectively. Global peers Total (TOT), Petrobras (PBR), and Suncor Energy (SU) have been rated "buy" by 17%, 47%, and 79% of their analysts, respectively.
Article continues below advertisement
Why analysts hold a mixed opinion on ExxonMobil?
ExxonMobil's (XOM) expansion activities across its business segments are likely making its earnings model more "integrated," shielding it partially from oil price volatility. The inorganic and organic growth strategy in its upstream segment will likely expand XOM's upstream portfolio. Also, ExxonMobil's continuing expansion and modernization activities in its downstream (refining and chemicals) segment will likely enhance earnings as well.
But most of the analyst ratings for ExxonMobil are a "hold" or "sell" likely because due to the higher valuation that XOM enjoys compared with its peers, and market participants have likely already factored in XOM's expected growth and sound financials.
In the next part, we'll examine the analysts' estimates for ExxonMobil's dividend payment in 4Q17.