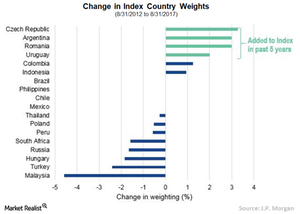 Expanding EM Horizon Provides Value Opportunities
By VanEck

Sep. 28 2017, Updated 3:07 p.m. ET
VanEck
This year alone, three new countries, Argentina, Czech Republic, and Uruguay, have been added to the J.P. Morgan GBI-EM Global Core Index (the "Index"). Romania was added in 2013. The chart below shows the change in country weights over the past five years, with new countries shaded in light green. (Not shown is Nigeria, which entered the Index late in 2012 but was removed in 2015 after currency controls were imposed – a good example of the emphasis the Index places on liquidity.)
Overall the Index has shifted exposure towards Latin America and European emerging markets and away from Asia and Middle East/Africa. Compared with five years ago, credit quality is unchanged to one notch lower, depending on the rating agency scale used.
Article continues below advertisement
Market Realist
Broadening EM debt index provides diversification
With the addition of three new countries to the JPMorgan GBI-EM Global Diversified Index earlier this year, the EM local debt (FEMB) market continued its growth in 2017. The JPMorgan GBI-EM Global Diversified Index is the benchmark for EM local debt (EBND) (ELD) and is one of the most widely followed indexes among bond market investors. With the addition of three new countries, the index now holds bonds in 18 countries.
Value opportunities
The broadening of the index entails substantial benefits to EM investors. The primary advantage is that the EM local debt (LEMB) (EMLC) market will become deeper and more diversified. In time, the index is likely to mirror the growth performance of the JPMorgan EMBI (Emerging Market Bond Index) Global Index, which has grown from 15 countries in 1994 to 66 currently. Thus, the index offers tremendous growth potential in the next few years.
Another advantage is that investors will have additional choice to invest in more countries with different growth rates and economic profiles. The expansion could also help investors generate better returns from previously unexplored markets. The weights of the large countries in the index will fall as more countries are added to the index. Three years ago there were six countries whose index weights were capped at 10%. That number has now fallen to just two. Overall, many emerging markets, especially in Latin America, look promising in light of their resilient economies and improving fundamentals.