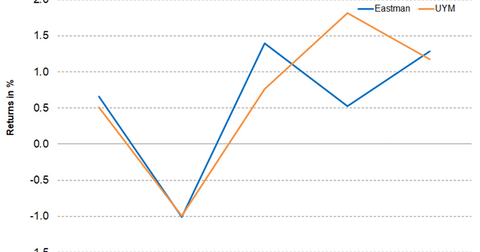 Eastman Chemical to Expand CHDM Capacity
By Peter Neil

Sep. 5 2017, Updated 10:37 a.m. ET
Eastman Chemical plans to expand
On August 31, 2017, Eastman Chemical (EMN) announced its plan to increase its production capacity of cyclohexanedimethanol (or CHDM) through multiple projects at its Kingsport, Tennessee, manufacturing facility. EMN aims to increase the production capacity of CHDM to 15,000 metric tons spread over a period of 18 months. EMN expects the project to be completed by 2019.
Eastman anticipates higher demand growth for its copolyesters, and the addition of the new capacity is expected to meet the demand. Vice president and general manager of Eastman's Specialty Plastics business Burt Capel, said, "We are very excited to continue making investments to grow our copolyester business."
Article continues below advertisement
Eastman Chemical's stock performance
Eastman Chemical had a strong week last week. The stock closed at $87.31 with a rise of 2.9% for the week ended September 1, 2017. The gains in the stock price have resulted in the stock trading 6.0% above the 100-day moving average price of $82.39, indicating an upward trend in the stock. On a year-to-date basis, the stock has returned 15.8%. Analysts are still positive on the stock and have recommended a target price of $92.75, which implies a potential return of 6.2% over the next-12-month period. EMN's relative strength index of 66 indicates that at present the stock is neither overbought nor oversold.
Investors looking for exposure to EMN indirectly can invest in the ProShares Ultra Basic Materials (UYM), which has invested 1.3% of its portfolio in EMN. The fund also provides exposure to Monsanto (MON), LyondellBasell (LYB), and Air Products and Chemicals (APD), which have weights of 5.4%, 3.1%, and 3.4%, respectively, as of September 1, 2017.