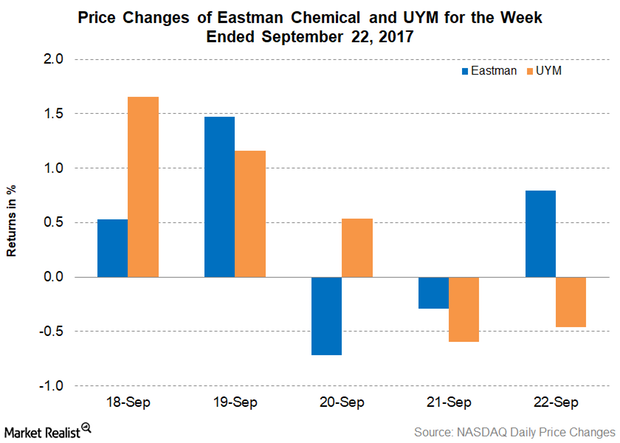 Eastman Chemical Hikes Prices of Amines
By Peter Neil

Sep. 26 2017, Updated 7:40 a.m. ET
Eastman Chemical updates on price hikes
On September 20, 2017, Eastman Chemical (EMN) announced that it is hiking its prices for amines, which will impact North America and Latin America. The price hikes will be effective October 1, 2017, or as the contract allows. Eastman cited the increase in operating costs as the major reason for the price hikes. Below are the details of price increases:
Mono-n-butylamine will increase $0.04 per pound.
Di-n-butylamine and monoisopropylamine will increase $0.05 per pound.
Tri-n-butylamine and diisopropylamine will increase $0.06 per pound.
The impact of the prices will reflect more in 4Q17 and could improve EMN's revenue, assuming the volumes remain constant or rise on a year-over-year basis.
Article continues below advertisement
Eastman stock rallied last week
Eastman Chemical stock rose 1.7% for the week ended September 22, 2017. It closed at $86.48 and traded 3.9% above the 100-day moving average price of $83.20, indicating an upward trend in the stock. EMN has risen 13.9% so far in 2017. Analysts foresee a further upside in the stock and have provided a 12-month target price for EMN of $93.40, implying a return potential of 8.0% from the closing price on September 22, 2017.
The strong weekly performance of EMN, however, wasn't sufficient to outperform the ProShares Ultra Basic Materials (UYM), which rose 2.3% for the same period. UYM has invested 1.3% of its portfolio in Eastman Chemical. The other holdings of the fund include Monsanto (MON), LyondellBasell (LYB), and FMC (FMC) with weights of 5.2%, 3.2%, and 1.2%, respectively, as of September 22, 2017.