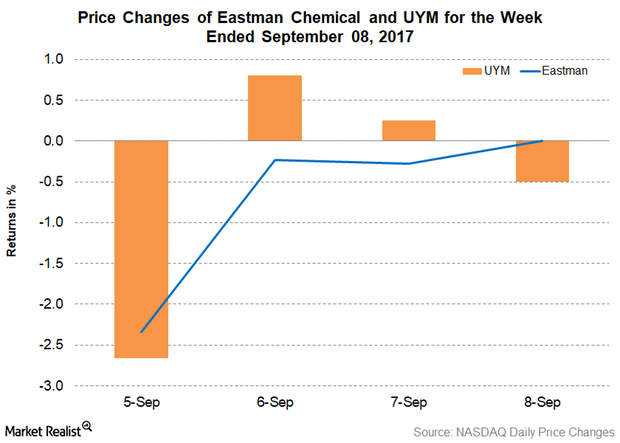 Eastman Chemical Hiked Acids and Aldehydes Prices
Eastman Chemical hikes product prices
On September 5, 2017, Eastman Chemical (EMN) announced that it would hike acids and aldehydes prices. The price hikes will be effective on September 6, 2017, or as the contract allows. The price increase will impact North America and Latin America. Eastman Chemical said that the prices increased due to higher operating costs. Below are the price increases:
Eastman Chemical increased the prices of all grades of propionic acid by $0.06 per pound in North America and Latin America.
The prices of all grades of propionaldehyde will be rise by $0.06 per pound in North America and Latin America.
The impact of price hikes could be positive for Eastman Chemical if the volumes don't fall. The impact would be visible in Eastman Chemical's 3Q17 earnings.
Article continues below advertisement
Stock performance
Eastman Chemical had a bad week. The stock fell 2.80% and closed at $84.83. It underperformed the ProShares Ultra Basic Materials (UYM), which fell 2.10% during the same period. The fund has invested 1.30% of its holdings in Eastman Chemical. LyondellBasell (LYB), Westlake Chemical (WLK), and Huntsman (HUN) returned 1.50%, -1.40%, and -0.20%.
Although Eastman Chemical's stock prices fell, the stock traded 2.60% above the 100-day moving average price of $82.66, which indicates the prevailing upward trend in the stock. Analysts seem positive about Eastman Chemical. They expect the stock price to be $93.40 in the next 12 months, which implies a return potential of 10.10% over the closing price as of September 8, 2017. Eastman Chemical has a 14-day relative strength index of 51, which indicates that the stock isn't overbought or oversold.