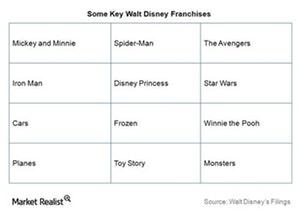 Disney-Branded Streaming Services and Disney's Movie Business
By Shirley Pelts

Updated
Disney's Studio Entertainment business
The Walt Disney Company's (DIS) Studio Entertainment business has been a valuable growth driver for the company. This business has created valuable intellectual property for the company through its movies. It has also enabled Disney to monetize its intellectual property through its franchises across its different businesses such as theme parks and consumer products.
The Studio Entertainment business has a robust movie slate for fiscal 2018. Disney plans to release four movies from the Marvel Universe in fiscal 2018—Thor: Ragnarok, Black Panther, Avengers: Infinity War, and Ant-Man and the Wasp.
Disney stated during its fiscal 3Q17[1. fiscal 3Q17 ended July 1, 2017] earnings call that movies from the Marvel Universe are in different stages of production and development, extending well into the next decade.
Article continues below advertisement
Disney noted during its fiscal 3Q17 earnings call that as part of its business strategy regarding Disney's streaming service, it would increase its investment in original programming. The company added that it has already started the development process to produce original movies at Disney Studios and original television programming for the Disney Channel.
Disney's Studio Entertainment segment in fiscal 3Q17
In fiscal 3Q17, Disney's Studio Entertainment had revenues of $2.4 billion, down 16% year-over-year. It posted operating income of $639.0 million. The Studio Entertainment business also saw its operating income fall 17% year-over-year.
The film business saw its operating income subdued by lower theatrical distribution revenues from Disney's movies. These movies did not fare well at the box office in fiscal 3Q17 compared to fiscal 3Q16.