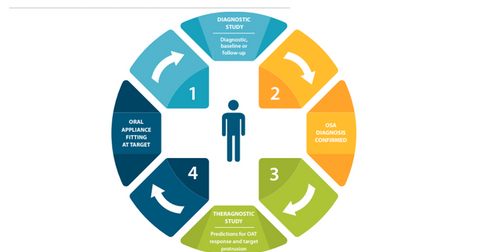 Dentsply Sirona's Dental Sleep Medicine and a Recent Partnership
By Sarah Collins

Sep. 22 2017, Published 7:25 p.m. ET
Dentsply Sirona: An overview
Dentsply Sirona (XRAY) is the leader in the sleep dentistry market. Its leading product portfolio is comprised of digital impressions, 3D (three-dimensional) imaging, the OPTISLEEP appliance, and the SICAT Air software. Dentsply Sirona and Zephyr Sleep Technologies have entered into a strategic partnership for the treatment of OSA (obstructive sleep apnea). Zephyr Sleep Technologies is a manufacturer and developer of innovative medical devices for sleep-disordered breathing treatment. Dentsply Sirona has appointed Stefan Hehn, its vice president of imaging systems, to Zephyr Sleep Technologies' board of directors to lead the partnership.
According to Medscape, OSA is "a sleep disorder that involves cessation or significant decrease in airflow in the presence of breathing effort. It is the most common type of sleep-disordered breathing and is characterized by recurrent episodes of upper airway collapse during sleep."
Article continues below advertisement
Zephyr's MATRx system
Zephyr Sleep Technologies manufactures the MATRx system, which is used for the identification of patients who will respond to the OSA treatment using oral appliances. According to Dentsply Sirona, breathing disorders related to sleep affect about 20.0% of the North American population. Around 60.0% of the OSA cases can be treated using oral appliances, which is the preferred treatment option. Thus, efficient determination of which patients will respond to the treatment helps avoid patients who are unlikely to be treated with the procedure from undergoing the expensive, time-consuming treatment. Zephyr's MATRx system received FDA (U.S. Food & Drug Administration) approval in 2012. The newly launched MATRx Plus is a patient-centric, home-based, cloud-enabled system that performs the same functions as the MATRx system.
According to a report by Global Market Insights, the sleep apnea device market is likely to be worth more than $8.5 billion by 2023.
Some of the other medical technology companies in the United States that develop and manufacture dental technologies and consumables include Danaher (DHR), Zimmer Biomet Holdings (ZBH), and Integra LifeSciences (IART). The Vanguard Growth ETF (VUG) has approximately 0.13% of its total holdings in Dentsply Sirona.