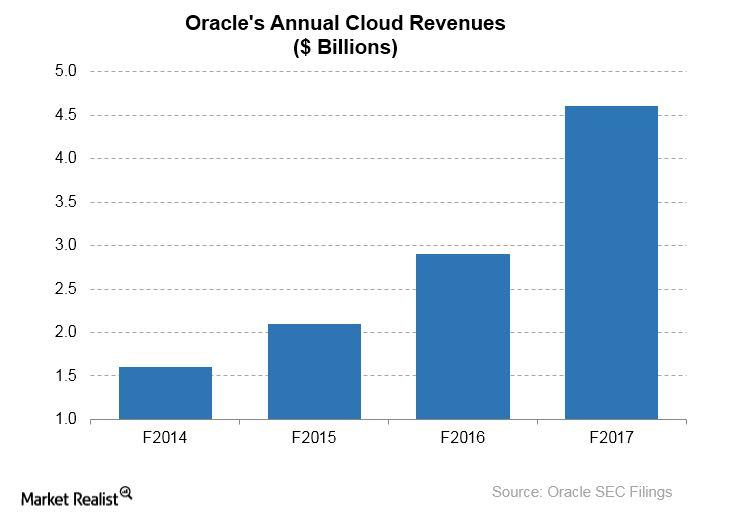 Could Oracle's Stock Price Top $60?
Oracle trading close to its 12-month peak
Oracle (ORCL) stock has ranged from $37.62 to $51.85 over the last 12 months. Looking at the stock's prevailing price of $51.13 at the close of business on June 20, Oracle is trading close to its 12-month high. This has been made possible by a series of gains since the company reported strong quarterly earnings in June.
KeyBanc Capital Markets analysts recently weighed in on Oracle, opining that the stock has more upside potential. The analysts upgraded their rating on Oracle from "sector-weight" to "overweight" and gave an initial price target of $61.00 on the stock.
Article continues below advertisement
Rising adoption of Oracle cloud
The reason for upgrading Oracle stock and assigning it a premium price target is that these analysts have noticed rising adoption of Oracle cloud. According to analyst Monika Garg of KeyBanc Capital Markets, only 3.4% of Oracle's customers have signed up for cloud-based services.
Oracle has more than 400,000 enterprise customers that it can convert from legacy on-premise software to cloud-based software. Given Oracle's late transition to the cloud, any sign of progress in its cloud operations could give the market a spark.
Oracle's Cloud business grew to ~$4.6 billion in revenues in fiscal 2017,[2. fiscal 2017 ended May 31, 2017] up from $2.9 billion in fiscal 2016. Cloud revenues contributed ~12.2% to the company's overall revenues in fiscal 2017.
A crowded scene for latecomers
Despite the gains, Oracle is largely trying to catch up to its competition in the cloud. Amazon (AMZN), one of its main competitors, generated more than $12.2 billion in revenues in 2016 through its cloud unit, Amazon Web Services.
In addition to being a latecomer to cloud computing, Oracle is also fighting in a crowded market. It is trying to fend off competition from giants such as Amazon, Microsoft (MSFT), and Salesforce (CRM), as well as from rising stars like Box (BOX).