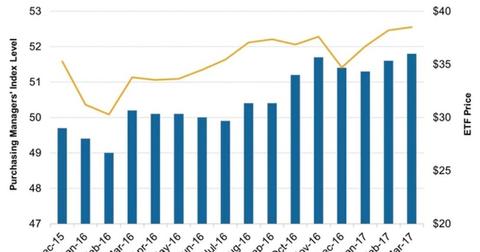 Why China's Manufacturing Activity Expanded
By Sue Goodridge

Updated
China's August PMI
In August 2017, China's manufacturing PMI (purchasing managers' index) was 51.7, which was higher than Reuters' forecast of 51.3. The PMI rose from 51.4 in July, which indicates a rise in manufacturing activity. The PMI shows a country's economic health.
China's PMI has been above 50 for 13 consecutive months. A PMI of 50 separates the expansion and contraction in manufacturing activity. A reading below 50 shows a contraction, while a reading above 50 shows an expansion. In 2016, China's PMI was above 50 for nine months out of the year.
Article continues below advertisement
August Caixin PMI
The official PMI reading gives more weight to large state-owned companies, while the Caixin manufacturing PMI shows the outlook for small private manufacturers.
The Caixin PMI for August 2017 was at a six-month high of 51.6 due to strong demand. It rose from 51.1 in July. The index was also higher than expected. Analysts surveyed by Reuters expected the index to come in at 50.9. Also, there was an increase in new orders in August.
According to Caixin and IHS Markit, the key driver behind the index's growth was foreign demand. Export sales grew to the highest level in the last seven years.
From the various indexes, we can see that China's manufacturing sector was strong in August.
China's oil demand
Manufacturing activities drive the oil demand. As the manufacturing industry expands, the demand for oil increases and vice versa. Higher oil demand benefits the crude tanker industry. Some of the major crude tanker companies are General Maritime Partners (GNRT), Teekay Tankers (TNK), Frontline (FRO), Nordic American Tankers (NAT), and Euronav (EURN).