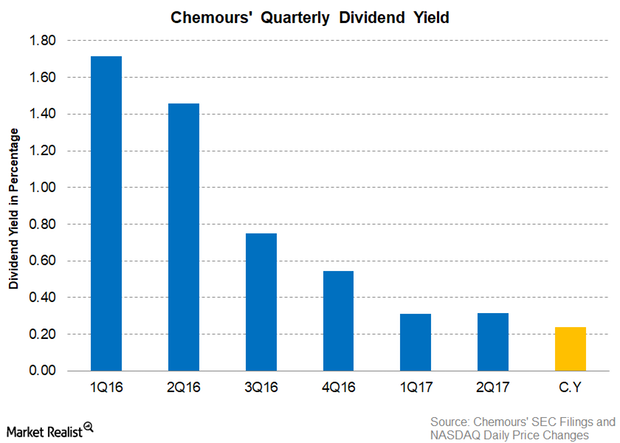 Why Is Chemours' Dividend Yield Low?
By Peter Neil

Sep. 13 2017, Updated 12:06 p.m. ET
Chemours' dividend yield
The dividend yield is one of the main criteria for long-term investors to invest in a stock. Generally, they prefer a stock with a higher dividend yield and good dividend growth. The dividend yield is what investors get in return for every dollar they invest in a company's equity.
Since Chemours hasn't increased its dividend rate since 4Q15, we can expect the company to pay a dividend of $0.12 for fiscal 2017. As of September 11, 2017, Chemours' dividend yield stands at 0.25%. Its peers Kronos (KRO) and Tronox (TROX) have a current dividend yield of 2.9% and 0.80%, respectively. Chemours' dividend yield has fallen drastically from 1.70% in 1Q16 to the current dividend yield of 0.25%. Chemours' dividend yield mainly fell due to the drastic rise in its stock price. Chemours' stock price has risen from $7.00 in 1Q16 to $50.5—an increase of 621% in ~19 months. At the same time, Chemours' dividend has remained stagnant, which caused its dividend yield to fall.
Chemours' current dividend yield is lower than the current yield on one-year Treasury bonds. Chemours could be more attractive to long-term investors if the dividend yield improves. Chemours can improve its dividend yield by increasing the dividends.
Article continues below advertisement
Dividend payout
At the end of 2Q17, Chemours' dividend payout was 3.60%. In 2016, due to lower EPS (earnings per share) of $0.04, Chemours' dividend payout was 300%. With improved EPS, the dividend payout has fallen drastically. The lower payout also indicates that the company is retaining more earnings. The earnings could be used for future expansion and other financing activities.
Investors looking for indirect exposure to Chemours can invest in the First Trust Materials AlphaDEX Fund (FXZ). FXZ has invested 2.40% of its holdings in Chemours. The fund also provides exposure to Westlake Chemical (WLK) with a weight of 3.80% as of September 11, 2017.
In the next part, we'll discuss analysts' recommendations for Chemours.