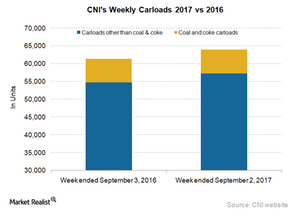 Canadian National Railway: What Led Volume Growth in Week 35
By Samuel Prince

Nov. 20 2020, Updated 2:27 p.m. ET
CNI's freight volumes in week 35
Since the beginning of 2017, Canada's largest freight rail carrier, Canadian National Railway (CNI), has continually kept its positive momentum. In the week ended September 2, 2017, CNI's carloads rose 4.2% to ~64,000 railcars compared to ~61,000 carloads in the week ended September 3, 2016.
For CNI, coal volumes account for ~11.0% of its total carloads. Coal (ARLP) volumes recorded a slight rise of 0.50% to ~6,700 railcars in week 35 of 2017. Much of the volume growth for the company came from a 4.7% rise in other than coal and coke volumes, which were ~57,000 railcars in the 35th week of 2017.
CNI's percentage rise in railcars was in line with Canadian railroads and much higher than US railroads. Unlike its US counterparts, Canadian National Railway maintained a steady growth in volumes.
Article continues below advertisement
Advancing and declining commodity groups
Commodity groups with higher volumes in week 35 were lumber and wood products, pulp and paper products, iron and steel scrap, waste and scrap materials, and automotive (TM). On the other hand, volumes of food and kindred products; primary forest products; stone, clay, and glass; grain; and petroleum products declined in the same week.
CNI's intermodal traffic
Canadian National's intermodal traffic's percentage-wise rise has been the highest among its Class I peers (XLI) in 2017. In the 35th week, Canadian National's intermodal volumes were represented by containers. Its intermodal volumes expanded 16.8% to ~50,000 containers from ~43,000 units on a year-over-year basis.
In the 35th week of 2017, Canadian National Railway registered a much higher growth in intermodal traffic compared to US and Canadian railroads.
In the next and final part of this series, we'll take a look at Canadian Pacific Railway (CP).