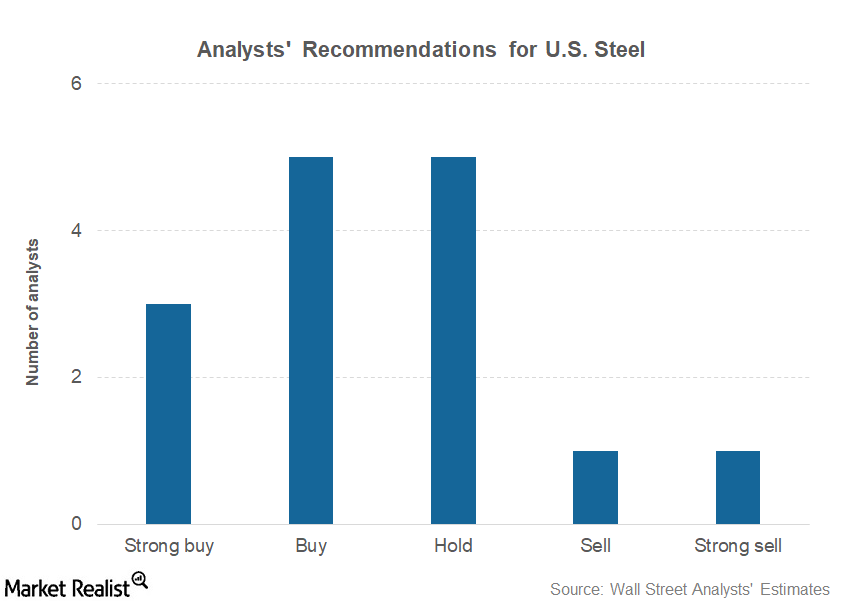 Can U.S. Steel Rise above $30? What Wall Street Thinks
U.S. Steel
U.S. Steel (X) has seen some upward price action in August and reversed some of its 2017 losses. However, it's still trading with year-to-date losses of 19.2% and is 35.9% below its 2017 closing high of $41.57 on February 21. The stock has closed below the $30 price level since April 25. Notably, U.S. Steel released its 1Q17 earnings after market hours on that day. The company posted a surprise loss in the quarter, which triggered a massive sell-off on April 26. The stock lost more than a quarter of its market capitalization on April 26—its worst single-day fall. In this article, we'll see what analysts are recommending for U.S. Steel.
Article continues below advertisement
Analysts' recommendations
According to consensus estimates compiled by Thomson Reuters, U.S. Steel carries a mean one-year price target of $28. Based on September 12 closing prices, this represents a 5.0% upside. Looking at other steelmakers (NUE)(XME), ArcelorMittal (MT) is trading 20.6% below its consensus price target while AK Steel (AKS) is trading 35.7% below its mean one-year price target.
Out of the 15 analysts polled by Thomson Reuters on September 12, three rate the stock as a "strong buy" while five analysts have a "buy" rating on the stock. Five analysts rate U.S. Steel as a "hold." The remaining two analysts have a "sell" or lower rating on U.S. Steel.
Recently, some brokerages revised their ratings for U.S. Steel. On September 5, Bank of America Merrill Lynch analyst Timna Tanners upgraded U.S. Steel to "buy" from "neutral." The brokerage has also raised U.S. Steel's price target to $31. However, Standpoint Research's Ronnie Moas downgraded U.S. Steel from "buy" to "reduce" on the same day. In the next article, we'll see why brokerages have divergent views on U.S. Steel.