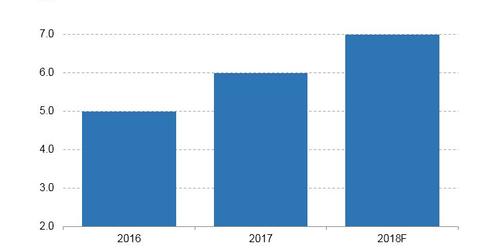 Can Netflix Survive Disney's Snub?
By Ruchi Gupta

Updated
Disney's pulling movies from Netflix
Netflix (NFLX) stock fell when news reached the market that the Walt Disney Company (DIS) had decided to pull its content from Netflix in favor of its own streaming video service.
The move by Disney presents a potential double blow to Netflix. First, there's the loss of high-quality content from Disney's movie studios, and then there's the problem of increased competition in the online video service market.
Article continues below advertisement
In launching an in-house Internet video service, Disney can be seen as following in the footsteps of its peers Dish Network (DISH) and AT&T (T) in responding to shrinking pay-TV subscriptions. These pay-TV providers have launched Internet-based video services to counteract the loss of video customers to online rivals such as Netflix and Hulu.
Will Disney cripple Netflix?
While Netflix investors may be justified in worrying about Disney's entry into the online video service business, many believe the panic appears to be overblown. If the reaction to news of Disney pulling movies from Netflix is any indicator, many investors may not understand the Netflix of today, which is different than the Netflix of the past few years. Today's Netflix is thriving on its own productions rather than licensed shows.
Article continues below advertisement
As such, Disney's move to keep its movies off Netflix may do little to turn subscribers away from Netflix. Netflix is spending $6.0 billion on content acquisition this year, with a large chunk of it going to the production of original shows. The above chart shows Netflix's content acquisition budget.
Stiff competition could increase Netflix's costs
Despite Netflix having content to hopefully keep it steady without Disney's movies, the risk of increasing competition in the online video service market can't be ignored. As Disney, Amazon (AMZN), and Apple (AAPL) double down on the online video push, they're creating more competition for Netflix. With more competition, Netflix could end up spending more on content and marketing to defend its market leadership.