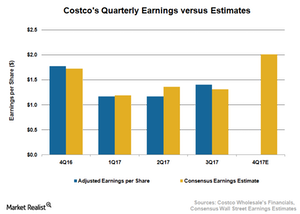 Can Costco Surpass Its Fiscal 4Q17 Earnings Estimate?
Why analysts project strong EPS growth
Costco Wholesale (COST) will announce its fiscal 4Q17 results on Thursday, October 5, 2017. Analysts expect the company to report stellar quarterly results, thanks to its industry-leading sales growth. On average, analysts expect Costco to post adjusted earnings of $2.01 per share, representing a YoY (year-over-year) growth of 13.6%.
The strong growth expectation in Costco's bottom line compares favorably with what rivals Wal-Mart Stores (WMT) and Target (TGT) reported for their last quarters. But Target's fiscal 2Q17 adjusted EPS (earnings per share) remained flat YoY, as higher costs offset healthy sales growth, and Walmart posted a mere 1% improvement in its bottom line for fiscal 2Q18.
Article continues below advertisement
Notably, mass merchandisers are investing heavily in their businesses, primarily into their digital arms and prices to accelerate sales growth amid the increased competition from Amazon.com (AMZN) and other deep discount chains like Aldi and Lidl. But this is taking a toll on these companies' profitability.
What drives Costco's EPS
Costco's EPS will likely benefit from strong sales. The company continued to report industry-leading monthly comps (comparable same-store sales), thanks to the rising store traffic and average transaction size, and the company is seeing improved trends in the US (SPY), as reflected through higher traffic and average transaction size.
Costco's membership fee hike and increased savings from its Citi Visa co-branded credit card are also expected to supplement its EPS growth. The company's new co-branded credit card facility has been resulting in lower expenses. During its last reported quarter, the new credit card facility added about $0.14 per share to its bottom line.
Moreover, unlike Walmart and Target, Costco's growth initiatives are likely to be funded by increased savings from the credit card facility and the membership fee hike—without affecting profitability.