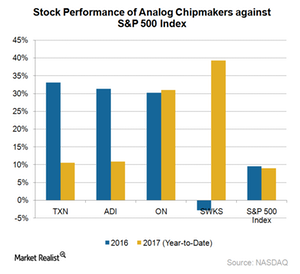 Can Analog Stocks Outperform the Semiconductor Market?
By Puja Tayal

Sep. 12 2017, Updated 6:06 p.m. ET
Analog IC
After memory, the second-fastest semiconductor segment is analog IC (integrated circuit), according to IC Insights. Analog circuit converts analog inputs such as sound, light, and heat into digital ones and zeros. Analog chips are used in cars, telecommunications, smartphones, consumer electronics, and healthcare, wherein data is collected in the form of sound, light, heat, and converted into a digital form.
The global analog IC market is divided into two segments: general-purpose ICs and application-specific ICs.
Article continues below advertisement
Analog stocks
Analog stocks Texas Instruments (TXN), Maxim Integrated (MXIM), and ON Semiconductor (ON) reached their all-time high in 2000 when the semiconductor industry was at its peak. After that, all three stocks fell significantly. None of these stocks has managed to reach their 2000-levels, despite uptrends and down trends.
The only exception was Skyworks (SWKS), which peaked in June 2015 because it had large exposure in Apple's (AAPL) iPhones. IC insights data showed that the cell phone analog IC market rose 8% in 2015, which is four times the overall analog IC market's growth of 2%. Analog companies with large exposure to the mobile market benefitted from this trend.
However, Skyworks's product mix backfired in late 2015, when Apple announced a 30% production cut in iPhones. Skyworks stock's growth revived in 2017 on the anticipation of Apple's upcoming iPhone 8.
Analog stocks TXN, Analog Devices (ADI), and ON have been growing steadily since February 2016. Their diversified customer bases mitigate downfalls but slow growth. Notably, an analog stock's performance depends on the performance of the end-market in which it has the highest exposure.
Analog IC market outlook
IC Insights forecasts that the analog IC market will grow at a CAGR (compound annual growth rate) of 5.2% between 2016 and 2021. The research firm expects signal conversion analog IC to grow the fastest in 2017. In the long term, the growing need for power management in electronic products should drive demand for analog ICs.