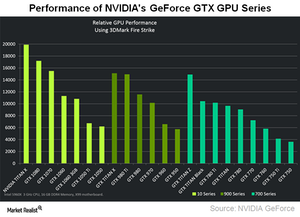 Can AMD Compete with NVIDIA's Volta GPU?
By Puja Tayal

Updated
NVIDIA could beat AMD with its Volta GPU
NVIDIA (NVDA) could extend its technological advantage over Advanced Micro Devices (AMD) by launching its next-generation Volta cards for gaming. According to several rumors in the supply chain, NVIDIA might launch its new Volta GPUs on the GeForce gaming platform by the end of 2017 or early 2018.
Once the Volta gaming GPU hits the market, NVIDIA's gaming revenue could rise significantly, driven by demand from gaming enthusiasts, and the company could easily win back the market share it had lost to AMD.
Article continues below advertisement
Rumors of GeForce GTX 1070 Ti
When AMD launched its Vega GPU, rumors floated that NVIDIA would launch a refreshed series to address the competition. Videocardz found some unconfirmed rumors, posted on several Chinese sources. The rumors stated that NVIDIA is planning to launch the GeForce GTX 1070 Ti, a new card that is believed to be between the GTX 1070 and 1080.
The GTX 1070 is touted to feature either 2,048 or 2,304 CUDA cores, compared with the existing GTX 1070's 1,920 cores and GTX 1080's 2,560 cores. With GTX 1080 priced at $500 and GTX 1070 at $350, the only possible price range for GTX 1070 Ti is $400–$450. Another possibility is that NVIDIA would reduce the price of GTX 1070 to around $300 before releasing the rumored GTX 1070 Ti at $350 or above.
Would NVIDIA launch GTX 1070 Ti?
If NVIDIA launches GTX 1070 Ti, it would cannibalize the sales of its other GTX 10 series. Meanwhile, NVIDIA is unlikely to cut GPU prices amid such strong demand from crypto miners, which has been driving up GPU prices, and the supply shortage of GDDR5 memory.
The top two memory makers, Samsung (SSNLF) and SK Hynix, have reduced their supplies of the GDDR5 for the discrete graphics card market, which has increased the memory chip's price by 30.8%. According to a report by Wccftech, rising memory prices will likely boost the prices of NVIDIA's GeForce GTX 10 series by 10%. The GTX 1080, which was priced at $599 when it was launched in May 2016, is currently selling in the price range of $650–$700.