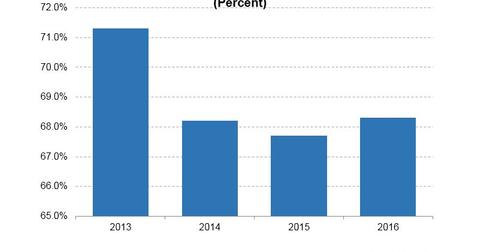 Calculating Netflix's Cost of Hiring Rhimes
By Ruchi Gupta

Updated
Rhimes brings $2 billion in revenues
In tapping prolific producer Shonda Rhimes from Walt Disney's (DIS) ABC, Netflix (NFLX) is adding a superstar to its growing roster of talent. In recent months, the company has signed several prominent movie directors as it works to expand its library of original shows.
Netflix's talent recruitment is also aimed at sharpening its competitive edge against rivals Hulu, Amazon.com (AMZN), AT&T (T), Sony (SNE), and Facebook (FB).
Rhimes, who runs Shondaland Production, is a successful creator whose work has generated more than $2.0 billion in revenues for ABC, according to the Wall Street Journal.
Article continues below advertisement
Netflix is likely paying a premium for Rhimes
But what price is Netflix paying to have Rhimes churn out shows for its streaming service? Netflix didn't disclose the terms of its deal with Rhimes, but ABC reportedly valued Rhimes' production work at more than $10 million per year. Rhimes has also received a cut of profits that ABC generated from reruns and international sales of her shows.
Netflix is thus likely paying a premium to get Rhimes to end her lucrative and long relationship with ABC. Rhimes had been with ABC for about 15 years.
Netflix's heavy spending
Netflix, which often doubles salaries to attract talent, appears to have taken a page from Amazon's playbook—spending heavily today to drive future growth. This year, Netflix is spending more than $6.0 billion on content acquisitions, up from ~$5.0 billion last year. Its spending budget for next year is expected to swell to more than $7.0 billion.
Notably, Netflix's cost of revenues in 2016 was 68.3% of total revenues, up from 67.7% in 2015.