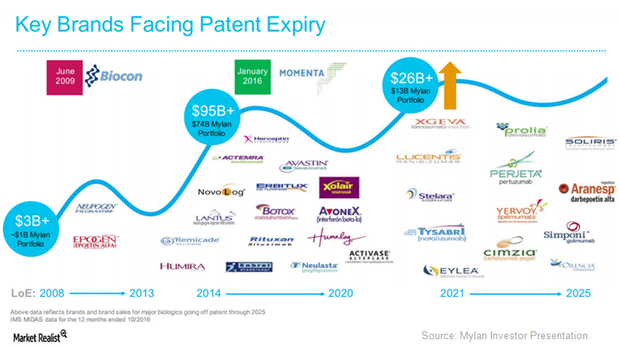 Could Mylan's Biosimilar Portfolio Be a Long-Term Growth Driver?
By Margaret Patrick

Sep. 19 2017, Updated 8:07 a.m. ET
Biosimilar market opportunity
The global biologics market had a market worth of more than $289.0 billion in 2014. According to Deloitte's 2016 global life sciences sector outlook, moving forward with cautious optimism, the biosimilars market is expected to grow to a market value of more than $445.0 billion by the end of 2019. Since access to costly biologics is restricted in certain markets, there's an opportunity to boost the penetration of biosimilars in these international markets.
Article continues below advertisement
The report Biosimilars: A Global Perspective of a New Market: Opportunities, Threats and Critical Strategies (2014) has estimated the market value of branded biologics with patents that expire by 2018 to be more than $70.0 billion, while biologics approaching patent expiration by 2020 is close to $100.0 billion. According to PhRMA (Pharmaceutical Research and Manufacturers of America) and IMS MIDAS data, biopharmaceutical companies are currently involved in developing more than 900 biosimilar drugs that are capable of targeting more than 100 diseases. These statistics highlight the scope of the market opportunity available for Mylan (MYL) and other biosimilar players such as Biogen (BIIB), Amgen (AMGN), and Novartis (NVS).
Recent developments
Currently, Mylan has a portfolio of 16 biosimilars and insulin analogs with branded sales of more than $88.0 billion. The company is involved in developing biosimilar versions for eight of its ten best-selling branded biologics with a total sales value of $68.0 billion.
On July 13, 2017, Mylan and Biocon's biosimilar cancer drug trastuzumab was backed unanimously by the FDA's (U.S. Food & Drug Administration's) Oncologic Drugs Advisory Committee. The company is also working aggressively on advancing its global submissions for biosimilar trastuzumab and pegfilgrastim in 2017. Currently, Mylan's biosimilar version of Herceptin/Hertraz (trastuzumab) is being marketed in 13 countries.
If biosimilar trastuzumab manages to secure regulatory approval in the largest pharmaceutical market, the United States, it may have a favorable impact on the share prices of Mylan and the Vanguard Growth ETF (VUG). Mylan makes up 0.16% of VUG's total portfolio holdings.
In the next part, we'll look at Mylan's business partnerships in the biosimilar space.