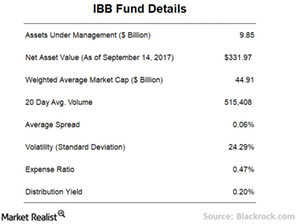 Benefitting from IBB's Lower Expense Ratio
By Peter Barnes

Sep. 18 2017, Updated 12:36 p.m. ET
Expense ratio
The iShares NASDAQ Biotechnology ETF (IBB) is an open-end fund with assets under management of $9.85 billion. The fund charges 0.47% of the investment value as annual fund operating expenses—also called the "expense ratio." Among the top biotechnology ETFs in the United States, the iShares NASDAQ Biotechnology ETF has one of the lowest expense ratios. But it's a tad higher than the VanEck Vectors Biotech ETF (BBH) and the SPDR S&P BIOTECH ETF (XBI). IBB offers a dividend yield of 0.20%.
The fund's standard deviation for the last three years is 24.29%. Standard deviation measures the variability in the fund's returns in relation to its average over a certain period. The higher the standard deviation, the higher the fund's volatility in returns.
Article continues below advertisement
Lower spread
The fund's average spread is 0.06%, the second lowest among the top biotech ETFs in the country. An ETF with a narrow spread is more liquid and probably easier to buy and sell than an ETF with a wider spread. The bid-to-ask spread for a particular ETF is the difference in quoted prices between the best offer to buy and the best offer to sell.
Portfolio turnover
The fund's portfolio turnover rate fell consistently from 39% in 2014 to 18% in 2017, which bodes well for fund investors. Normally, a higher portfolio (BIIB)(GILD) turnover leads to additional transaction costs for the fund, which could result in higher taxes when the fund's shares are held in a taxable account. These costs affect the fund's performance.