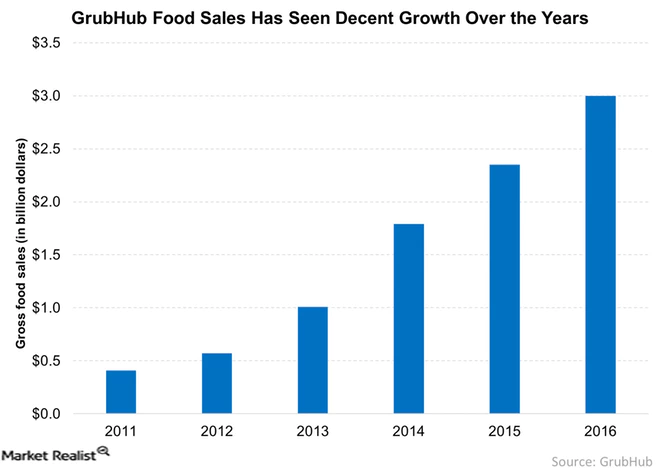 Behind Take-Two Interactive's Climb in August
By Adam Rogers

Nov. 20 2020, Updated 4:18 p.m. ET
Take-Two Interactive shares rose 23% last month
Gaming company Take-Two Interactive (TTWO) saw its stock rise 23% in August 2017 and closed the month at $97.79. Take-Two is now trading 135% above its 52-week low of $41.7 and 0.7% below its 52-week high of $98.45.
Last month, Take-Two announced its quarterly results and reported revenue of $418.2 million for fiscal 1Q18, which represents a rise of 34% YoY (year-over-year), compared with $311.6 million in fiscal 1Q17. Its non-GAAP (generally accepted accounting principles) EPS (earnings per share) came in at $0.56—well above the analysts' estimate of $0.40.
Article continues below advertisement
Take-Two's digital revenue rose 56% YoY to $368.2 million in fiscal 1Q18, up from $172 million in fiscal 1Q17. Recurring revenue from micro transactions, virtual currency, and downloadable add-on content rose 72% YoY and accounted for 63% of total digital revenues and 41% of total revenues. Digital revenue was driven by growth in the Grand Theft Auto Online, Grand Theft Auto V, WWE SuperCard, NBA 2K17, and WWE 2K17.
Grand Theft Auto V has sold over 75 million units since its launch in calendar 2017 and has been the key revenue driver for TTWO over the past few quarters. In June 2017, Take-Two announced its acquisition of Kerbal Space Program from gaming developer Squad for an undisclosed amount. The franchise has sold more than 2 million units in the past 24 months.
In order to gain traction in the mobile gaming market, Take-Two acquired SocialPoint earlier this year. SocialPoint has popular free-to-play gaming titles, including Monster Legends and Dragon City. Last year, Activision acquired King Digital to expand its online gaming portfolio.
A 90% stock rise in calendar 2017
In the trailing-12-month period, Take-Two (TTWO) stock has risen 125%. Since the start of 2017, the stock has risen 95%, after rising more than 40% in 2016. It has also risen almost 3% in the past five trading days.
By comparison, Electronic Arts (EA), Activision (ATVI), and Japan-based (EWJ) Sony (SNE) have generated returns of 50%, 59%, 23%, respectively, in the trailing-12-month period.
Of the 18 analysts covering Take-Two, 14 have given it a "buy" recommendation, and three have recommended a "hold." The stock has one "sell" recommendation. The analyst stock price target for the company is $95.24, with a median target estimate of $99. The stock is thus trading at a discount of 2.7% to median analyst estimates.