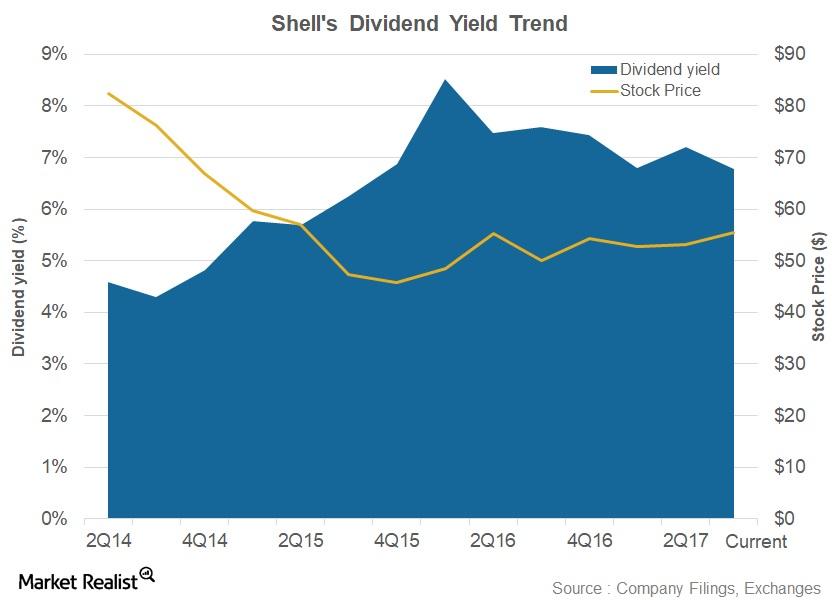 Behind Shell's Dividend Yield: Among the Best
By Maitali Ramkumar

Sep. 6 2017, Updated 3:36 p.m. ET
Shell's dividend yield
Royal Dutch Shell (RDS.A) is the second-highest dividend-yielding stock in our group of top ten integrated energy stocks. RDS.A is a British-Dutch integrated energy company with upstream, downstream, and integrated gas business segments. The company also has the second-largest market capitalization of ~$228 billion.
Shell has a current dividend yield of 6.8%. In 3Q17, Shell has announced a dividend of $0.94 per share. This was announced on July 28, 2017, and will be paid on September 18, 2017.
Shell has paid dividends consistently for the past three years, and its dividends have stayed stable during that period. Three years ago, Shell had made a quarterly dividend payment of $0.94 per share on September 25, 2014, and over the past three years, Shell's stock price has fallen 33%.
Article continues below advertisement
Latest 1H17 earnings
In its 1H17 results, Shell (RDS.A) posted a 174% YoY (year-over-year) rise in its earnings on a CCS EII (current cost of supplies, excluding identified items) basis, reaching nearly $7.6 billion in 1H17. This was due to an across-the-board rise in earnings.
Shell's integrated gas earnings grew 26% YoY to nearly $2.4 billion, and its upstream earnings, which came in negative in 1H16, reached $879 million in 1H17. This was due to a rise in hydrocarbon volumes and realizations. Shell saw a decline in its operating expenses YoY in 1H17, while its downstream earnings rose 32% YoY to just over $5.0 billion in 1H17.
Valuations
Shell is now trading at a forward PE (price-to-earnings) of 14.7x—below the average forward PE of 21.5x in our group of ten integrated energy stocks. Shell is trading at a forward EV-to-EBITDA (earnings before interest, tax, depreciation, and amortization) multiple of 5.7x, which is below the peer average of 6.2x.
Notably, Shell's earnings have been battered by lower oil prices over the past three years. It acquired the BG Group in 2016, and the acquisition came at the time when oil prices were at multiyear lows, which caused a pileup of debt.
Now that oil prices have begun to recover, the benefits and synergies from the BG acquisition have started kicking in. After its latest earnings, it was evident that Shell's leverage and liquidity positions have started improving. For more on this, please refer to the series Is Shell's Strategy Yielding Results?
Shell, like BP (BP), Total (TOT), and ENI (E), has a higher-than-average dividend yield and a lower-than-average PE.