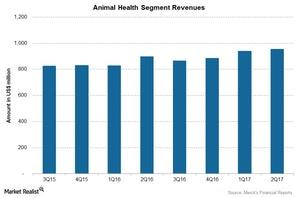 Behind Merck's Animal Health Segment Performance in 2Q17
Animal Health segment
Merck's (MRK) Animal Health segment includes drugs and vaccines for animals and has operations spread across more than 140 countries worldwide. Revenues from this segment totaled $955 million in 2Q17—a 7% growth at constant exchange rates—compared with revenues of $900 million in 2Q16.
Article continues below advertisement
Revenues
Animal health segment reported growth in revenues in 2Q17 following increased sales of companion animal products including Bravetco and Nobivac Canine Flu Bivalent vaccines and strong sales of ruminants products. The contribution of this segment was ~9.6% of MRK's total revenues during 1Q17.
Companion animal products include products used for pets by pet owners as well as veterinarians. Bravecto products include chewable tablets used to kill fleas and ticks for dogs and cats up to 12 weeks old.
This segment's revenue growth in 2Q17 was driven by the strong performance of Bravetco products and Nobivac Canine Flu Bivalent Vaccines. Other products for companion animals include Activyl, Panacur, Scalibor, Veterinary insulin Vetsulin, and a few eye and ear products.
The company's food animal products include the aquaculture and swine products. Aquaculture products are used for maximizing fish growth, fish survival, and farmed fish productions and include Aquaflor, Aquavac, and Slice. Swine products are used to help pork producers improve health in pigs and include Circumvent PCV, Regumate, Respig, and Zuprevo.
Merck acquired a controlling stake in Vallee SA, a private company in Brazil, in 1Q17 in order to strengthen its Animal Health portfolio. The acquisition had a positive impact on the overall revenues of this segment in 2Q17.
To divest company-specific risks, investors can consider ETFs like the First Trust Nasdaq Pharmaceuticals ETF (FTXH), which has 4.0% of its total assets in Merck (MRK). FTXH also has 8.3% in Zoetis (ZTS), 4.1% in Eli Lilly (LLY), and 8.5% in Pfizer (PFE).