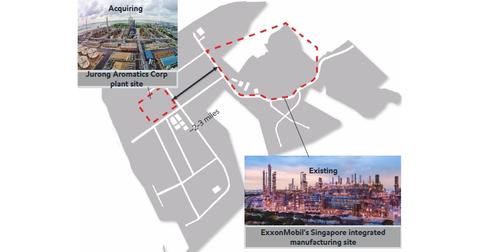 Behind ExxonMobil's Acquisition of Jurong Aromatics: A Feather in XOM's Cap?
By Maitali Ramkumar

Updated
ExxonMobil's acquisition of Jurong Aromatics
ExxonMobil (XOM) has completed the acquisition of Jurong Aromatics, which owned one the largest aromatics plants in the world. The facility stands quite close to ExxonMobil's existing integrated refining petrochemical complex in Singapore.
The acquisition of Jurong will likely provide tremendous operational synergies to ExxonMobil and has raised ExxonMobil's Singapore aromatic plant's capacity to 3.5 MMT (million tons), including 1.8 MMT of paraxylene production. The acquisition has also added 65,000 bpd (barrels per day) of transportation fuel capacity. Before the acquisition, ExxonMobil's capacities in Singapore stood at 1.9 MMT for production of ethylene and 1.0 MMT for paraxylene, and XOM's refining capacity stood at 592,000 bpd.
ExxonMobil plans to tap the growing demand for chemicals globally. The company expects chemical demand to grow by 4% per year for the next decade. The bulk of demand is projected to come from Asia-Pacific due to the burgeoning middle class and growing economies.
Article continues below advertisement
The Jurong acquisition has also expanded ExxonMobil's downstream portfolio, which was already quite strong and growing. ExxonMobil's Singapore facility is expected to witness a rise in capacity with the start-up of a new specialty polymers unit. The new unit is expected to start production in 2H17, and the plant is expected to produce products for adhesive use like halobutyl rubber and performance resins.
A word from the Management
On the completion of Jurong acquisition, ExxonMobil Chemical's senior vice president of basic chemicals, intermediates, and synthetics, Matthew Aguiar, stated the following: "As a leading global manufacturer of aromatics, the addition of this aromatics plant to our existing operations in Singapore will help us better serve our customers in key Asian growth markets. We continue to make strategic investments to ensure ExxonMobil is well positioned to meet increasing global demand for chemical products."
Series outline
In this series, we'll look at ExxonMobil's performance. In the next few parts, we'll analyze stock returns, moving average trends, and price forecast range based on implied volatility. We'll also review the analysts' opinions, XOM's dividend estimate for next quarter, and changes in institutional holdings, and then examine short interest changes, forward valuations, and XOM's correlation with oil.
Later in the series, we'll examine XOM's leverage and cash flow, capital expenditure trend, and growth trajectory, delving into segmental earnings dynamics.
Continue to the next part (below) for a look at the impact of Hurricane Harvey.