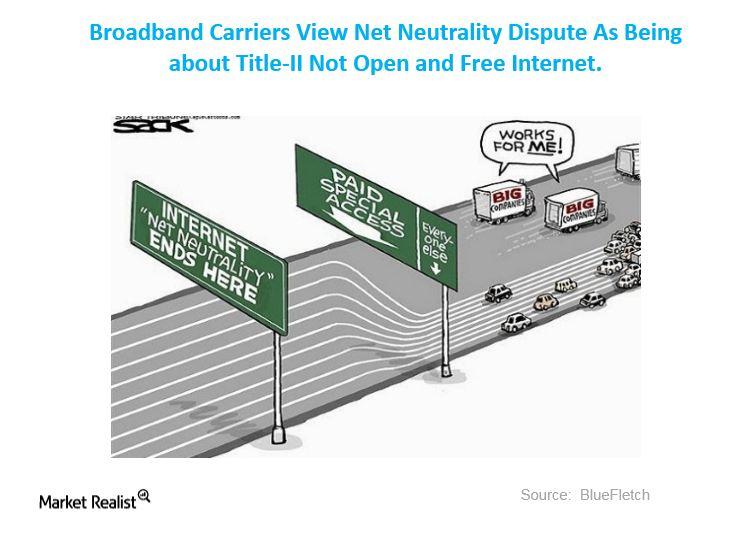 Behind Comcast's Position on Net Neutrality
By Ruchi Gupta

Sep. 18 2017, Updated 5:36 p.m. ET
Title-II regulations
ISPs (Internet service providers) like Comcast (CMCSA), Charter Communications (CHTR), and AT&T (T) are generally known to be big supporters of a roll-back of the landmark 2015 net neutrality rules.
When the FCC (Federal Communications Commission) under the Barack Obama administration decided to place broadband services under Title-II regulations, ISPs protested, while Internet companies like Facebook (FB) and Amazon.com (AMZN) celebrated.
But the FCC under President Donald Trump is working to undo the rule that holds telecom services to Title-II regulations.
Article continues below advertisement
Comcast supports net neutrality, but not Title-II regulation
What is Comcast's position in the simmering net neutrality debate? According to Comcast, it has no problem with open and free Internet regulations—or with net neutrality. But it views net neutrality and Title-II regulations as two different things.
Comcast says that net neutrality can be achieved without subjecting ISPs to Title-II regulations that it perceives as stringent and has described as harmful to innovation. The company stated in a recent blogpost that it has no intension to block, throttle, or discriminate against any lawful content that is served through its network.
A century-old regulation
Title-II was developed in the 1930s to regulate the monopoly of telephone firms. But Comcast and its ISP peers believe they don't qualify for utility Title-II regulation, viewing themselves as information service providers, which typically have fewer regulations than utilities have.
The Obama administration argued that regulating ISPs under Title-II would eliminate a situation wherein ISPs manipulate Internet speeds depending on who pays them extra fees for "fast lane" access.