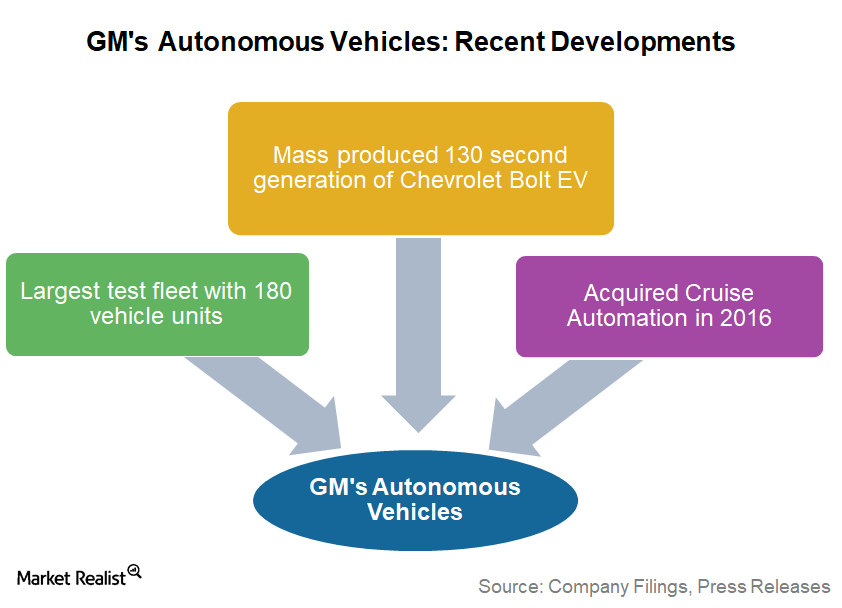 Autonomous Vehicles: Here's How GM Is Staying ahead of Ford
By Jitendra Parashar

Sep. 25 2017, Updated 7:39 a.m. ET
Trump's push for autonomous vehicles
In the previous part of this series, we discussed how new guidelines that the Trump administration recently announced could speed up autonomous vehicle development. The adoption of autonomous vehicles at large could eliminate the human error factor to a great extent from road crashes. Human error accounts for about 94% of road accidents in the US. Now, let's take a look at how the largest US automaker, General Motors (GM), has accelerated its autonomous vehicle development lately.
Article continues below advertisement
GM's mass production of autonomous vehicles
On June 13, 2017, General Motors revealed that it had mass-produced 130 units of next-generation automated Chevrolet Bolt EVs for testing purposes at its Orion Township assembly plant. With this, the company claimed to be the first automaker to mass-produce autonomous vehicles.
At that point, GM already had a test fleet of 50 autonomous vehicles on public roads in San Francisco, metro Detroit, and Scottsdale. This makes GM's driverless car testing fleet the largest at the moment in the automotive industry (IYK), ahead of direct peer Ford (F).
GM announced its plan to mass-produce these 130 second-generation test autonomous vehicles in December last year.
Investing in new technology
GM acquired tech start-up Cruise Automation to accelerate its autonomous vehicle development in March 2016. Cruise Automation was founded in 2013 in San Francisco, and it's known for its highway automated systems for vehicles.
After the completion of this acquisition, GM began testing its self-driving Chevrolet Bolt EV (electric vehicle) on public roads in June 2016.
In January 2016, GM also made an investment in Lyft, the ride-sharing services provider, and launched its on-demand mobility services brand Maven. With the help of its strategic partner, Lyft, GM expects to develop an autonomous vehicle network going forward.
Read on to the next part to learn about Fiat Chrysler's (FCAU) collaborations with Google (GOOGL).