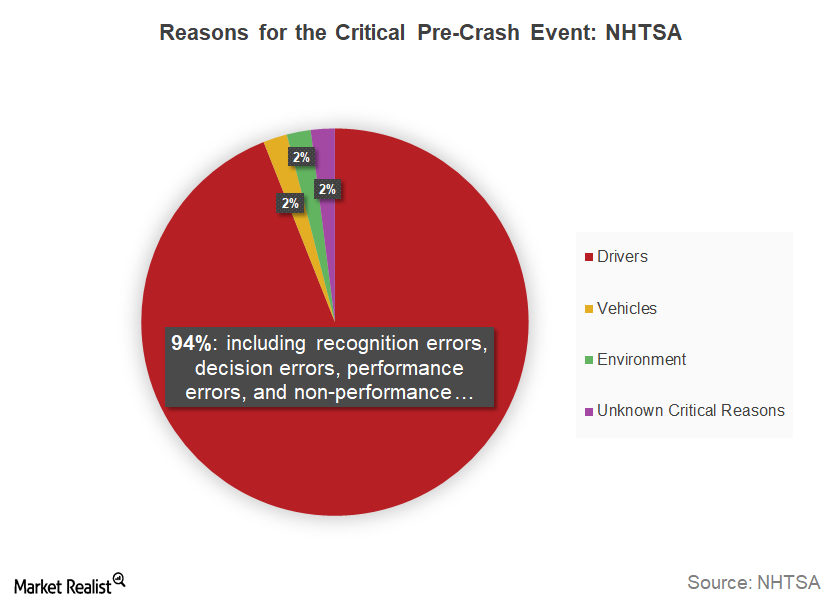 Autonomous Vehicles Could Save 28,000 Lives per Year in US
By Jitendra Parashar

Dec. 2 2019, Updated 10:06 a.m. ET
Autonomous vehicles
In the previous part of this series, we discussed how automakers and tech companies have accelerated the autonomous vehicle development process. Auto giants (IYK) such as Ford Motor (F), General Motors (GM), Fiat Chrysler (FCAU), and Toyota (TM) have already begun testing driverless vehicles on roads.
Article continues below advertisement
Why are they needed anyway?
Autonomous vehicles could make road travel a lot easier and much safer for commuters. According to the NHTSA (National Highway Traffic Safety Administration) website, over 30,000 people die every year in the US due to road crashes. The NHTSA report goes on to say that about 94% of road crashes occur due to human error.
The data suggest that fully autonomous vehicles could prevent 94%, or over 28,000, of these deaths every year. Participants in the field argue that the potential to save so many lives is the primary reason why intelligent machines taking control of vehicles shouldn't be as scary for people as it sounds.
Are autonomous vehicles really that scary?
On June 6, 2017, Neil deGrasse Tyson, a well-known author and astrophysicist, tweeted, "When we cure all disease & stop aging, the leading cause of death will be Car Accidents, unless we develop Self-driving Cars." Tyson's tweet has received 24,985 likes, and about 1,900 users have commented on his tweet as of September 13, 2017. Many of these Twitter users have expressed their fear and trust issues with machines.
In 2016, Elon Musk, Tesla co-founder and CEO, spoke publically about how negative media coverage could be responsible for making people believe that autonomous vehicles are not trustworthy. During many Tesla annual shareholder meetings, Musk has presented data on how Tesla's autopilot feature has the ability to prevent human error while driving.
We might choose to agree or disagree with Tyson or Musk, but current data seem to favor autonomous vehicles. Therefore, maybe we should sit tight and wait for the day when intelligent machines could start saving thousands of lives every year in the US alone.