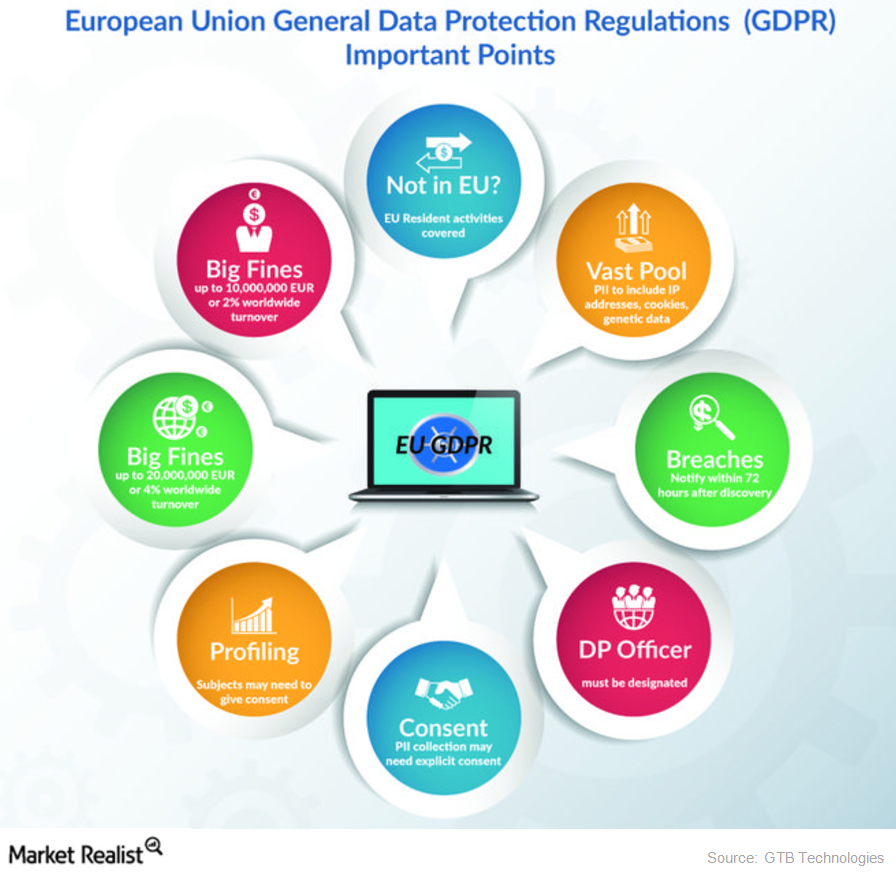 Assessing FireEye's EU Opportunities in General Data Protection Regulations
By Anne Shields

Oct. 5 2017, Updated 9:06 a.m. ET
Europe's GDPR poses stringent laws for business
Prior to the Equifax (EFX) breach, the WannaCry and NotPetya ransomware attacks impacted the entire world, with and Europe (EFA) and Asia being the worst affected. Before we delve into what FireEye (FEYE) thinks of the EU's GDPR (General Data Protection Regulation), let's see how GDPR would impact cybersecurity market in Europe.
The EU's GDPR took effect in May 2018. According to the EU's GDPR, companies are required to make a "good faith effort" to inform regulatory authorities of data breaches within 72 hours. The UK (EWU) also aims to adopt this law.
Article continues below advertisement
The GDPR's impact on cybersecurity market in Europe
According to Christoforos Papachristou, critical communications and cybersecurity analyst at IHS Technology, "GDPR is big deal for European data privacy regulation for two important reasons: greater transparency and greater accountability."
Papachristou added: "The most significant change from the current data protection framework is that it is in the form of a regulation rather than a directive, which means it will be directly applicable within the member states as the national law of each country."
FireEye's take on EU GDPR
According to Frank E. Verdecanna, FireEye's CFO (chief financial officer), the EU's GDPR should drive security spending over time. Verdecanna feels that incremental business has yet to be seen in GDPR.
However, it's bound to see traction going forward. FireEye has seen a lot of traction in EMEA (Europe, the Middle East, and Africa), partly due to the installation of a new meter at the beginning of 2017, which has done a good job getting off the ground. In fiscal 2Q17, EMEA contributed 17% to FireEye's overall revenues.