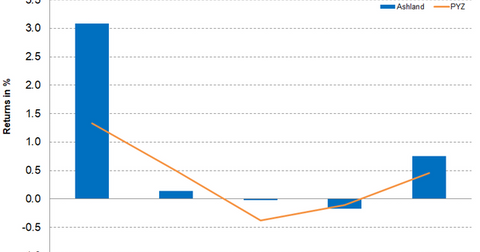 Ashland Increases the Price of Maleic Anhydride
By Peter Neil

Sep. 19 2017, Updated 8:07 a.m. ET
Ashland hikes prices
On September 14, 2017, Ashland (ASH) announced that it's hiking maleic anhydride prices. The price increase will be $0.02 per pound. The higher prices will impact the North American region. The price hike will be effective on October 1, 2017, or as the contract allows. Ashland sighted an increase in raw material prices as the main reason for the price hike.
It's the second price hike in two months. The impact of current price hike will be seen in 4Q17. The impact could be positive for Ashland. It could help to improve Ashland's revenue. Maleic anhydride is used to produce lubricating oil additives, copolymers, and polyester resins.
Article continues below advertisement
Ashland's stock performance
Ashland stock closed the week on a strong note by rising 3.8%. It closed at $64.02 for the week ending September 15, 2017. The solid gain in the stock price caused the stock to trade marginally above the 100-day moving average price of $63.97, which indicates a trend reversal in the stock. On a year-to-date basis, the stock has returned 19.70%. However, analysts appear to be bullish on the stock. Analysts expect the stock price to be at $72.75 in the next 12 months, which implies a return potential of 13.60% from the closing price on September 15, 2017. Ashland's 14-day relative strength index of 63 indicates that the stock isn't overbought or oversold.
Investors looking to invest indirectly in Ashland can invest in the PowerShares DWA Basic Materials Momentum Portfolio (PYZ), which has invested 3.30% of its holdings in Ashland. The fund has also invested in Chemours (CC), FMC (FMC), and Albemarle (ALB) with weights of 4.90%, 4.70%, and 3.90%, respectively, as of September 15, 2017.