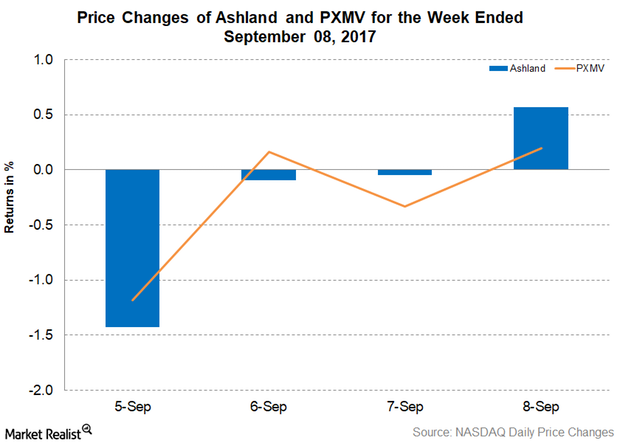 Ashland Hikes Prices of 1-4 Butanediol and Other Derivatives
Ashland hikes price on few of its products
On September 7, 2017, Ashland (ASH) announced that it would increase the prices of 1-4 Butanediol and other derivative products. The price hikes will impact the Americas region. The prices will be increased immediately or as the contract allows. Below are the price hikes:
1-4 Butanediol will rise by $0.22 per kilogram.
The prices of several derivative products will rise by $0.22–$0.26 per kilogram.
The price increase might have a positive impact on Ashland's Intermediates and Solvents segment—assuming that the volumes remain steady or increase on a YoY (year-over-year) basis. In fiscal 3Q17, Ashland's Intermediates and Solvents segment reported revenue of $70 million—an increase of 9% on a YoY basis. The price hike on the above-mentioned products will be visible in Ashland's fiscal 4Q17 earnings.
Article continues below advertisement
Ashland's stock performance last week
Ashland stock had a low week. Its stock price fell 1.0% and closed at $61.67 for the week ending September 8, 2017. The fall in the stock prices didn't help much regarding moving average prices. Ashland traded 3.70% below the 100-day moving average price of $64.01, which indicates the downward trend in the stock. On the other hand, analysts tracking Ashland recommended a target price of $72.75, which implies a return potential of 18.0% in the next 12 months. Ashland's relative strength index of 46 indicates that the stock isn't overbought or oversold.
Investors looking to hold Ashland indirectly can invest in the PowerShares Russell Midcap Pure Value Portfolio ETF (PXMV). PXMV has invested 1.30% of its portfolio in Ashland. The fund also provides exposure to Newmont Mining (NEM), First Solar (FSLR), and Staples (SPLS) with weights of 1.50%, 1.50%, and 1.45%, respectively, as of September 8, 2017.